The Murder of Atheist Bloggers in Bangladesh
On 14 May 2015 I posted Bangladesh: Another Atheist Blogger Hacked to Death. This post was mainly about the murder two days earlier of Ananta Bijoy Das, the fourth atheist blogger hacked to death in the streets of Bangladesh and the (then) third this year. The response of many in Bangladesh has been to blame atheists for their own murders. If the atheists would just shut up they say, everything would be okay.
Included in that post were the details of the life and death of atheist blogger Ahmed Rajib Haider, who back in 2013 was the first atheist blogger hacked to death in the streets of Bangladesh. Now we have the news that two men (one in absentia) have been sentenced to death for Haider's murder. According to the Friendly Atheist blog:
… seven students and a cleric were … charged with the crime. That was a bit surprising given that those who react to perceived blasphemy with violence seem to be given medals of honor these days in nations like Bangladesh.

Perhaps even more surprising is that all eight were indicted by a Bangladeshi court earlier this year:

"The indictments mean a trial will begin for Mufti Jasimuddin Rahmani, head of the Ansarullah Bangla Team, and the seven students at a private university who have confessed involvement in the killing.

The investigation report says Rahmani incited the students to kill Haider in sermons at two mosques in which he said all atheist bloggers should be killed to protect Islam."

All eight faced the death penalty if convicted.

And now, nearly three years after Haider was killed, the sentences have been handed down: Two of the killers will receive the death penalty while six others will be sent to prison for varying lengths of time.

…
The two men will be hanged soon. (That is, if they can even find the second guy.) The lawyer for all of them has said that he will appeal the decision.

Part of me is glad to see some semblance of justice offered in response to these hate crimes. It's the first in what I hope is a series of punishments given to those who have killed atheist bloggers and their allies over the past couple of years.

Another part of me says killing them isn't the best answer — it'll only spur more terrorists to avenge their deaths. They all need to be locked away forever, humiliated in a way that prevents any sort of "martyrdom."

It's also stunning that Rahmani, the preacher who was the head of this whole operation (though he didn't commit the actual crime), was only given five years in jail. What's going to happen when he's let out? Does anyone really think he'll change his mind in prison?

Killing two terrorists won't stop the larger problem of a culture that sees critics of Islam as the enemy rather than those who attack those critics in retaliation. It's a temporary Band-Aid that won't stop these crimes from happening again in the future.
In my several posts about the situation in Bangladesh, I've also commented on the atmosphere there. Most of the population is Muslim, but it was established as a secular nation. However, over the years actions by extremists have led various government to try to mollify them, as if that's going to stop them. For example, despite the constitution including freedom of belief, speech, and religion, Islam has since been named as the national religion to try to pacify the extremists. All such measures have only emboldened them, resulting in the five murders by machete we saw in 2015.
Sam Lotu-Iiga and Serco
In Saints and Sinners (now Auē a Tau Kē) back on 26 July 2015, the Sinner of the Week was Sam Lotu-Iiga, then Minister of Corrections for the New Zealand government. He got the "award" because videos were posted to YouTube of inmates in our toughest prison operating a fight club. The prison was being run by a private operator in a new system for our country. Once the fight club was exposed, a whole lot of other allegations came to light too.
The update to this story is that government staff were moved in to manage the prison. Then, after an investigation and in one of his last acts as minister, Lotu-Iiga announced that Serco had lost the contract. Judith Collins was then made new Minister of Corrections.
Kim Davis
I've already updated my 16 August 2015 post, in which my Saint of the Week was Judge David Bunning. You will remember that in Rowan County, Kentucky, clerk Kim Davis was refusing to issue marriage licences because she disagreed with the US Supreme Court decision that allowed same-sex couples to marry. ABC News reported at the time:
Davis argued that issuing a marriage license to a same-sex couple that contains her signature is the same as her approving the marriage, which she said violates her Christian beliefs. U.S. District Judge David Bunning rejected that argument, saying Davis has likely violated the U.S. Constitution's ban on the government establishing a religion by "openly adopting a policy that promotes her own religious convictions at the expenses of others."
My first update on this story came on 6 September 2015. That's when Davis was jailed for continuing to refuse to issue marriage licences, and refusing to let her staff do it in her stead, despite Judge Bunning's ruling. Davis was released from jail after a few days and returned to work. She still refused to issue marriage licences, but most of her staff agreed in front of the judge that they would issue licences. Davis was still unhappy, and insisted that all licences issued without her name on them were invalid.
Last month, the law was changed in Kentucky to remove all doubt about the status of marriage licences without the county clerk's signature; it is no longer a requirement – licences are now just as valid with the signature of a deputy clerk. Among her statements in the interview below, and according to Right Ring Watch,
Szeltner reported that Davis told her that her time in jail was a "joyful and peaceful time" and that she "knows that it is a possibility" she'll return.
It sounds to me like she wants to go back, and has developed some sort of martyr complex.
Further, Davis is predicting that she is "just the first of what's going to be very many," by which she seems to mean people who will refuse to issue marriage licences to same-sex couples who otherwise meet the legal requirements. This interview is extremely painful to watch given both the verbal fry of interviewer Catherine Szeltner of EWTN and the emotionalism of Davis, but it's only 2:39.
The Davis Debacle was back in September, so I think if there were going to be a wave of clerks disobeying the law in relation to the marriage of same-sex couples, it would have happened by now. Still wishful thinking is a tendency of the ultra religious, especially those who feel they have the right to force their beliefs on others as Davis clearly does.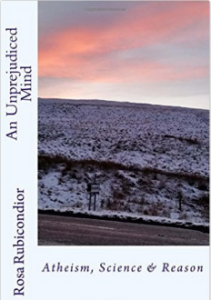 Rosa Rubicondior
On August 2015, Saints and Sinners I wrote about Rosa Rubicondior's book in the Saint of the Week section. The Light of Reason And Other Atheist Writing, which you can get here, was only available on Kindle at the time. We have two updates from Rosa. Firstly, The Light of Reason is now available in print, and secondly, he has a new book available. Released on 25 December 2015, An Unprejudiced Mind: Atheism, Science and Reason is available both on Kindle and paperback.
The book is based on Rosa's excellent blog, and is a collection of "essays on science and theology from a scientific Atheist perspective, exploring particularly evolution versus creationism."
"Look Inside" on Amazon is activated, so you can get a look at what you're buying, but if you read Rosa's website, you already know it'll be worth it!