There was an embarrassment of riches for both the Saint and Sinner this week. For the Saint, I just need to go into full, one-eyed Kiwi mode. The New Zealand netball team, the Silver Ferns has been performing magnificently at the world cup. This afternoon they're in the final against Australia after not losing a game all tournament. (The Silver Ferns match against Australia I mentioned last Sunday was a pool match.) The All Blacks had an impressive win against Australia last night, more than making up for their loss to them the week before and their unconvincing win against South Africa two weeks before that. And Golfers Lydia Ko and Danny Lee are continuing to go well in PGA tournaments in Oregon and Wisconsin respectively. The Saint award is in an area that's even more important to me than New Zealand shining on the world sport stage though – equality and human rights.
The Sinner could, as always, have gone to several of the GOP presidential candidates – Ben Carson's hypocrisy in relation to the Planned Parenthood issue is probably the worst this week. The Chinese government is a candidate too – I suspect (but don't know) that their weak health and safety regulations are behind the Tianjin explosion, killing dozens and injuring hundreds. DAESH continues to horrify the world with their brutality too – the cowardly suicide bomb they detonated in a Baghdad market on Thursday killing at least eighty comes in the same week as Rukmini Callimachi's article in the New York Times: ISIS Enshrines a Theology of Rape. I've chosen an issue that may seem less serious than all of these on the surface, but it points to issues that it's vital we address – climate change and scientific ignorance spread via social media.
---
SINNER OF THE WEEK
Greenpeace
For the last few weeks my e-mail inbox and Facebook timeline have both been inundated with anti-GM (genetic modification) of crops propaganda from Greenpeace and people who've been persuaded by what they say. It's driving me nuts.
There is absolutely no scientific proof that there is any danger from the form of genetic modification that Greenpeace is insisting is so dangerous. There're actually several crop modification techniques (the most common are shown below) that are used, but for some reason, it's only transgenesis that that they've chosen to focus on. There's no rational reason for this. Worse, their campaign is leading to deaths both directly because of farmers being unable to use use GM seed for things like golden rice, and indirectly because of the extra greenhouse gases produced in the growth of non-GM crops, especially organics.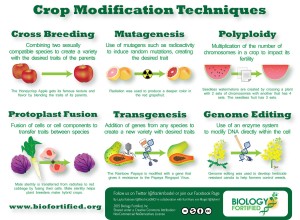 Now I'm no scientist, so when it comes to things like this, I turn to independent experts, and the broad consensus amongst scientists is that transgenesis is not something we need to be concerned about. A Pew Center survey (right) in 2014 showed that 88% of AAAS scientists considered that GM foods are generally safe. I've read what they have to say, and I find the arguments convincing.
It seems that my approach isn't the usual one though, at least in the United States. Propaganda from groups like Greenpeace means that only 37% of US adults feel GM foods are generally safe – a huge 51 points below what the scientists think. Even worse, that same propaganda has led 67% of US adults to think that scientists do NOT have a clear understanding of the health effects of GM crops. I find that statistic bizarre.
Andrew Porterfield of the Genetic Literacy Lobby points to the fact that GM foods, as well as being safe, significantly reduce greenhouse gases and use less land for greater yields. With the population estimated to increase by more than two billion by 2050, and with climate change leading to both a reduction in arable land and available water, we need to take advantage of the science. You'd think Greenpeace, of all organisations, would celebrate that scientists are coming up with crops that are more nutritious, need less water and chemicals, and give greater yields. Porterfield estimates that GM crops have "already … reduced greenhouse gas by the equivalent of nearly 12 million automobiles."
Porterfield, has this to say about the use of GM technology:
Genetic modification has made significant inroads into curbing climate change. Drought- and salt-tolerant GM plants have been produced, and researchers are looking into developing more. Thriving under extreme heat also is an area of keen interest.

As for helping to prevent climate change in the first place, GM has not been much of a slouch. Adopting GM technology has reduced pesticide spraying by nearly 9 percent. This arises from replacing broad-range pesticides with glyphosate and in some cases 2,4D, reducing the volume of pesticides used and the fossil fuel needed to spray them.

In addition, tillage, necessary for organic and some conventional farming, is usually not necessary for genetically modified crops. A Purdue University study found that no-till fields released 57 percent less nitrous oxide (another greenhouse gas) than fields that required tillage. Thus, less tillage sequesters more carbon and nitrogen in soil.

Finally, genetic modifications produce crops that can get higher yields using less space. This means that less land needs to be disrupted—fewer trees are removed, more plants are preserved and less carbon is released (not to mention the carbon dioxide taken up by plants). The USDA [United States Department of Agriculture] recently found that organic agriculture would require almost twice [as] much land [as] is necessary using conventional methods (measured against GM crops, that number's more dramatic). Organic agriculture would require an extra 121.7 million acres to grow all US-produced food—that's an area the size of Spain.

Together, reducing spraying and tillage saved 2.1 billion kilograms of carbon dioxide in 2012 alone. This means tons of carbon that isn't released into the atmosphere, carbon that isn't burned by crop dusters and other sprayers, and reduction in land use needed for agricultural production.
These facts seem to be ignored by Greenpeace though. Porterfield writes further:
As for Greenpeace and other anti-GMO groups, organic remains a more viable alternative than GM, even in the face of organic's threats to climate change.

Ramez Naam, author of The Infinite Resource: The Power of Ideas on a Finite Planet, recently wrote in the Genetic Literacy Project that "Organic farming is environmentally kinder to every acre of land. But it requires more acres. The trade-off is a harsh one. Would we rather have pesticides on farmland and nitrogen runoffs from them? Or would we rather chop down more forest? How much more forest would we have to chop down?"
On 5 August actors Gwyneth Paltrow and Blythe Danner (Paltrow's mother) got to officially lobby senator Jon Tester (D-Montana) about their objections to GM foods simply because of their celebrity status. That prompted geneticist Jerry Coyne to post an article entitled Ignorant celebrities lobby U.S. Congress against GMOs on his website. He quoted the following from geneticist Layla Katairee, also of the Genetic Literacy Project:
To date, there is no solid research that has demonstrated that eating GMOs cause harm. I've read a few of the studies that are held up by anti-GMO activists as evidence of harm and the vast majority have been very poorly designed. Scientific organizations around the world have stated that GMOs pose no more of a risk than crops bred using other methods.

Many anti-GMO advocates fight for labeling based on the opinion that labeling is not about food safety: rather it is about their "right to know". As I've followed this story, the editorial boards for major news publications across the country, including the Washington Post and the New York Times, have questioned the arguments behind "right to know" campaigns based on the fact that it simply does not offer any important information.

Labeling foods containing GMOs does not tell you if pesticides or herbicides were used. It does not tell you if fair-labor wages were paid. It does not tell you if the crop was produced by large agricultural companies. It does not tell you if the ingredients came from a large or small farm. Each one of these arguments applies to other forms of crop breeding: traditionally bred organic crops can be safely treated with pesticides, large farms that use seeds derived through mutagenesis can pay their workers poor wages, Monsanto produces seeds used by organic farmers, and GMOs can be grown in smaller family farms.
At the end of his piece Coyne wrote an open letter to the actors:
So, here's my request. The two of you have been blessed with being in a position where you can impact a lot of people. Your voices are heard and the ridiculous paparazzi write about your every move. At the beginning of this article, I wrote that I was crest-fallen that you'd taken up this cause, and it's because I really wish you had dedicated your valuable time and effort to something that could really change things in our society, like reducing gun-violence or getting more girls involved in STEM [science, technology, engineering, mathematics]. But since it would be incredibly impertinent of me to decide what you do with your time, this is my request: I'd like to ask that you chat with a few respected scientists about this. Not me. Hellz no. I'm a human geneticist writing about this stuff as a hobby. Go to whatever respected university is closest to where you live, and chat with a professor of agronomy or plant genetics. And not somebody who is recommended by GMO-Free USA or Food Democracy Now. Ask a normal everyday specialist in crop breeding. Ask her what she feeds her family. Ask him if he's worried about GMO labeling.
I would ask everybody to do the same. Don't assume that because the information comes from Greenpeace that it is accurate – investigation of their science by people who understand such things demonstrates the opposite. Look into the information yourself and make your own decision.
---
SAINT OF THE WEEK
David L Bunning, US District Court Judge
Bunning (born 1966) was nominated for a seat on the United States District Court for the Eastern District of Kentucky by President George W Bush in September 2001, and confirmed by the Senate in February 2002. I know nothing about his career since then, but via what appears to have been a thorough and carefully considered decision, he receives my bouquet this week.
In Rowan County, Kentucky, clerk Kim Davis has been refusing to grant all marriage licences since the US Supreme Court confirmed earlier this year that same-sex couples had the constitutional right to marry. She cites her Christian beliefs as her reason for this. (Ms Davis is a committed member of the Apostolic Church.)
The case of some of the couples who have been refused marriage licenses was taken up on their behalf by the Kentucky Branch of the American Civil Liberties Union (ACLU). Ms Davis was represented by Christian law firm Liberty Counsel. This week Judge Bunning handed down his decision, which ruled in favour of the plaintiffs. The ruling was comprehensive and showed that Bunning had considered each of Davis's arguments in her defence and dismissed them all. He ordered Davis to resume issuing licences. Governor Steven Beshear has also directed her to issue marriage licences that meet the legal criteria. Davis's lawyers, on her behalf, have stated she will not as she considers it violates her religious freedom.
Sheryl Gay Stolberg of the New York Times reported that Davis did not turn up to work on Thursday. Engaged couple David Moore and David Ermhold arrived that morning to try and get a marriage licence (they've tried and failed at least once before), only to be told none would be issued. Ermold told Stolberg, "People are cruel, and this is wrong." She wrote that he told her they'd, "… lived in Morehead for 11 years, and said they felt humiliated by their experience, and by the suggestion from Ms. Davis's lawyers that they could go to another Kentucky county to get a marriage license." Moore's response to that was, "Telling people to go to another county is like saying, 'We don't want your kind of people here.".
ABC News reported:
Davis argued that issuing a marriage license to a same-sex couple that contains her signature is the same as her approving the marriage, which she said violates her Christian beliefs. U.S. District Judge David Bunning rejected that argument, saying Davis has likely violated the U.S. Constitution's ban on the government establishing a religion by "openly adopting a policy that promotes her own religious convictions at the expenses of others."

"Davis remains free to practice her Apostolic Christian beliefs. She may continue to attend church twice a week, participate in Bible Study and minister to female inmates at the Rowan County Jail. She is even free to believe that marriage is a union between one man and one woman, as many Americans do," Bunning wrote. "However, her religious convictions cannot excuse her from performing the duties that she took an oath to perform as Rowan County Clerk."

Despite the court's ruling, Davis' attorney, Roger Gannam, said Davis does not intend to issue any licenses until "we've exhausted all of our options to protect her rights." Gannam filed his notice of appeal about an hour after Bunning's order.
On Davis's behalf Fox News was told:
"Kim Davis is just an example of what's going to be happening not only to other clerks but to other people who are going to be confronted with this issue and we think that this is a serious matter that needs to be decided by a higher court, even the Supreme Court," said Liberty Counsel founder Mathew Staver.
In the case of Davis, I find her refusal particularly hypocritical. Her opposition to same-sex marriage is based on the tenets of her faith. However, she has been married four times herself (and presumably divorced at least three times), which is considered a sin in the Apostolic Church. It opposes divorce except in the case of infidelity, and expects divorcees to remain unmarried and celibate for the rest of their lives. On the Apostolic Revelation website, the following answer was given to a church member who had queries about his recent divorce:
Greetings to you in Jesus name! Thank you for your kind words. GLORY TO GOD! Praise the Lord that our web mininstry [sic] has been a blessing to you in your walk with the Lord. As for the divorce, absolutely it is a sin like any other sin, as the covenant with one's wife made before God was broken (Mal 2:14). Remarriage is not allowed but rather reconciliation is always encouraged (1 Cor 7:10-11). If there is no possibilty [sic] of reconciliation, until it happens it is recommended for both to remain unmarried. God hates divorces because it hurts the family of both the husband and wife, brings confusion of the evil one in to the blessed family life that God has ordained for each person, it breaks the lives of children who are born within the marriage wedlock [sic] who could have been raised as godly blessing to many if not for the divorce and unforgiveness [sic] starts to eat both the ex-spouse like a virus the very life of God given to them within and therefore demonic torturing curses will happen by God's soveriegn [sic] will if one does not let go of the things which has caused the hurt in to the hands of God unconditionally like God has forgiven their sins unconditionally (1 John 5:12; Matt 18:34-35; Eph 4:32; Col 3:13). And above all divorce is a sacrifice of one's family to the idol of self that brings shame to the name of our Lord by which we are called (Lev 18:21; Acts 11:26). The devil and his demonic cohorts will have a strong foothold in the life of the believers who still hold unforgiveness beyond the sunset (Eph 4:26-27). If a person divorces for any reason except for infidelity of one's spouse, Jesus himself has told that it is absolutely adultery. Whoever marries her who is divorced also commits adultery (Matt 19:9).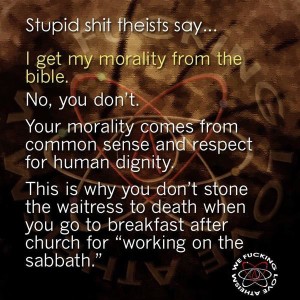 And that was just the first paragraph. There were three more in similar vein. The Apostolic Theological Seminary and Bible College goes into the matter in even greater length, and with the same conclusions. Perhaps that's what this is all about – the guilt Davis has been made to feel by the teachings of her Church about her own divorces and remarriages are making her try to atone. She somehow believes that forcing her religious beliefs on others will make up for the sins she has been made to think she has committed.
In Kentucky, both senators and five of the six congressmen (yes, they're all men) are Republicans, and the conservative religious have a big impact on elections. There's even a Christian Voter Guide. So Judge Bunning standing up for what's right in this case is impressive, and that's why he gets Saint of the week.