Unbelievable! Two weeks in a row I'm complimenting the Aussies! But credit where credit's due and all that, and if I'm nice about them now, I might not get accused of racism if I abuse them during the upcoming Rugby World Cup. 🙂
---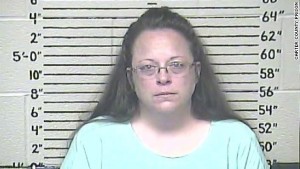 But first an update. In "Saints and Sinners" on 16 August 2015, my "Saint of the Week" was Judge David Bunning. Three weeks ago the George W Bush appointee had stood up for the law and ordered Rowan County clerk Kim Davis to issue marriage licences – she was refusing to do so "on God's Authority."
Four years ago Ms Davis became a member of the fundamentalist Apostolic Church, which opposes same-sex marriage. She has decided to interpret that her name and signature on a marriage licence that confirms that two people are legally eligible to get married is an endorsement of their marriage. Therefore, she refused to issue marriage licences.
Davis's refusal to do her job as an elected official saw her back before Judge Bunning this week. He tried to find a way to keep her out of jail by suggesting that she delegate the power to issue marriage licences to the deputy clerks. Five of the six were willing to do that. (The sixth is her son.) She refused that option and was thus jailed for contempt of court.
After sending Davis to jail for contempt of court, Bunning ordered the five willing deputy clerks to issue marriage licences to those who met the criteria. He thus made an end-run around the block in the system Davis's refusal had created. Each of the five deputy clerks took an oath to begin issuing marriage licences, starting the next day (Friday 4th September). They made good on that oath.
I heard on Fox News that Davis (via her lawyer) has said she considers that the licences issued on Friday without her name on them are invalid. However, also on Friday, Davis's husband said she was willing to issue the licences if they didn't have her name or signature on them. This of course would make them invalid. And surely her omnipotent, omnipresent, omniscient god would still know she issued the licences, and he's the one she's supposedly trying to please here. Davis's husband also said she wasn't going to back down on this issue, so we'll see.
During Davis's first court appearance, Bunning said:
"Our form of government will not survive unless we, as a society, agree to respect the U.S. Supreme Court's decisions, regardless of our personal opinions. Davis is certainly free to disagree with the court's opinion, as many Americans likely do, but that does not excuse her from complying with it. To hold otherwise would set a dangerous precedent."
He affirmed that opinion when ruling on Thursday. According to the Washington Post, Bunning, a devout Catholic and committed Republican said:
"Personal opinions, including my own, are not relevant to today. The idea of natural law superseding this court's authority would be a dangerous precedent indeed."
Bunning's work on this case continues to be impressive.
The thing for Davis to do would have been to resign. That's taking a moral stand, and for that she would deserve respect for standing up for her principles, if not for the principles themselves. And if she's quoting Bible verses, how about this one:
Matthew 6:1 – Be careful not to practice your righteousness in front of others to be seen by them. If you do, you will have no reward from your Father in heaven.
---
Now to this week's Saint of the Week, which is, as I said an Aussie. In fact, it's the same Aussie as last time – the Victorian State Government. The Guardian reports that protestors are to be banned from hassling women who attend abortion clinics in Victoria. Like America's Planned Parenthood, the clinics dispense services other than abortions – in Australia, it's usually fertility services such as IVF. Therefore the assumption of protestors that all attendees are there for abortions is incorrect and whether or not you agree with their motives, or even their actions, to attack all women who attend them is wrong.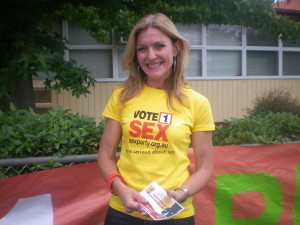 Fiona Patten, leader of the Sex Party since its inception in 2009 and MP in the Victorian State Parliament since 2014, introduced a member's bill in August, that looks to have attained enough votes to pass. The Bill is an amendment to the Health and Wellbeing Act, and will make it illegal for protestors to be within 150 metres of an abortion clinic. When the Bill was first introduced, Patten was unsure whether she would be able to get enough support for it – none of the bigger parties had, at that stage, indicated whether they would support it and if not, whether they would allow a conscience vote for their members.
When the Bill was introduced, Alison Savage of Australia's ABC News reported:
Ms Patten said women had experienced disgraceful treatment at the hands of anti-abortion "vigilantes".

"This weekend they were yelling to people attending a clinic, 'you are going into a slaughterhouse'," she said.

"They film and photograph people to try and intimidate them, to try and intrude on their privacy." …

Ms Patten said she supported their right to protest, but not to harass and intimidate. …

She said some women who were the target of protesters were not seeking a pregnancy termination, but were using the clinics for pregnancy-related services.

"These clinics provide a vast array of services so many times people are going there for IVF or pregnancy tests, for a whole range of services other than just pregnancy terminations," she said.
Anti-abortion groups say that establishment of buffer zones would impede their freedom of speech. However, both the opposition Liberal party leader and the mayor of Melbourne have previously said that they personally don't think women should be subjected to abuse when attending the clinics, so there was always hope the Bill would succeed.
This week, Patten found out that the Labour state government would support her Bill, and with that endorsement, she is now confident she has the numbers to get it passed before the end of the year. (She already had support from the Greens, and the Liberal Party* has given its members a conscience vote.)
Patten's Bill is similar to one already in place in the Australian state of Tasmania.
Protesting outside abortion clinics in New Zealand is thankfully rare and doesn't get much media attention when it happens. However, every Friday morning when the abortion clinic is held at Thames Hospital, a small number of protestors stand with signs outside St George's Church. They are on council property and do not have the endorsement of the Church or its vicar.
Waikato District Health Board staff report that women find the presence of the protestors extremely distressing. The Waikato Times reports:
'There is a legal requirement in New Zealand to offer unbiased pre-termination counselling. Waikato DHB social workers assist women to look at all options including guardianship, adoption and single parenting," Mrs Oliver-Clarke said. She said Waikato DHB social workers had spoken with women, both pre and post termination, who have been deeply affected by the protesters.

"Some of those affected are women are on their way for a procedure that is both personal and painful but is being performed for the right reasons, at the given time," Thames Hospital manager Jacquie Mitchell said.

"Others are women who have undergone terminations in the past and the protesting brings up the pain and trauma of a procedure that was also right for them at the given time. One woman who expressed alarm at the protesting underwent pregnancy termination 15 years ago at Thames Hospital. She did not want to be named.

"Every Friday morning I feel persecuted for my decision. I can only imagine how horrifying it would have been for me to be confronted with that when I entered the hospital for my procedure," she said. "It really concerns me that the protesters have chosen to protest at that time on that day knowing full well that the termination clinic takes place then. I see this as targeting vulnerable people."

She urged the protesters to think about the women affected by pregnancy termination. "What about the 12-year-old that has been impregnated by a family member, or raped by a stranger? The 14-year-old that could not possibly bring up a child on their own because of lack of family support? The couple that have had to terminate because of severe complications?

"This must be horrific for them," she said.
I think appealing to the empathy of people who are so brainwashed that they think abusing people in the street is an appropriate action is probably a waste of time. The only way to stop them is, unfortunately, to pass laws. So good on the Victorian State Government for making this move to protect women from emotional abuse at a time when they are already vulnerable.
* In Australia, the Liberal Party is a socially conservative party. "Liberal" refers to its economic policies, not its social policies.