It's a short one this week as I've actually managed to post a few articles. The Brickbat and Bouquet are both to entities of English origin.
---
SINNER OF THE WEEK
Dr Who
I love Dr Who. I've grown up with Dr Who. It was first broadcast in the year of my birth – 1963, although it wasn't broadcast in New Zealand straight away – they waited until I was old enough to watch it! But, it always seems to take so long before the next series appears. I feel like I've spent my whole life waiting for Dr Who. I'm waiting again at the moment. Then, when it finally arrives, it's over in no time at all.
Mum was a bit worried about me watching Dr Who when I was a kid; she thought it was too frightening. But I insisted. However, I was never one of those kids who got fantasy and reality mixed up – probably a good indicator I was going to be an atheist. So I enjoyed getting scared when the Daleks appeared, but I didn't have nightmares about them.
Anyway, one day Mum heard me crying in the lounge when the Dr Who end credits started rolling – I was four. She came rushing in from the kitchen saying, "What's the matter Heather, is it a bit scary?"
"No!" I wailed, "It's the final!" She was a bit annoyed I think at being dragged away for such trivia, but to me this was a tragedy. At that age the time 'til the next series was even longer!
A few years ago I got the very first series on DVD – it was great seeing the mysterious junk yard scene all over again, and the doctor's granddaughter attending Coal Hill School. Back then, two teachers at the school (a couple) became the doctor's first companions. I like that the doctor's latest companion, Clara Oswald, is again a teacher at Coal Hill school, although I was a bit sad that her boyfriend Danny Pink, also a teacher there, had to die. I wanted him and Clara to live happily ever after.
So please BBC, put me out of my misery sooner rather than later – release the next series of Dr Who!
Yes, I know, #FirstWorldProblems, but it was either this or write about my horror that Donald Trump had to move his rally to a bigger venue he got so many RSVPs – 42,000, 30,000 of whom turned up. FFS Alabama, what's wrong with you? And now he's calling for the election to be brought forward so he can take over even quicker and "Make America Great Again." The attendees waved signs saying, "The Silent Majority Stands With Trump." It scares the hell out of me that they might be right.
---
SAINT OF THE WEEK
Rosa Rubicondior
Many of you will know Rosa Rubicondior's (@R0saRub1c0nd10r on Twitter) self-titled and excellent blog. If you're a subscriber like me, you'll get several e-mails a week as he adds a new post to his site about a whole range of topics including evolution, atheism, humanism, absurdities of the Bible, creationism, and religious apologetics.
On his blog he says he initially began to write using a pseudonym because he wanted to be free to criticize his (then) employer, the British NHS (National Health Service), and that decision has since been vindicated on another level. His criticism of religion has attracted some ghastly characters – anyone who has followed his battles with the expelled seminarian Manuel de Dios Agosto, who calls himself Sacerdotus online (among other things) will know what I mean. You know things are bad when an institution desperate for priests expels someone! You can read something about Rosa's battles with Sacerdotus here. Just this week Agosto has once again been spreading lies online in an attempt to blacken Rosa's name. However, the tweets he's displaying on Google+ as coming from Rosa are clearly forgeries. Here's one: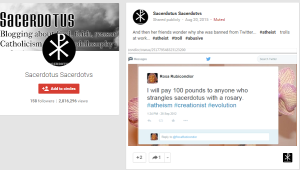 Anyone who knows Twitter can see it's a forgery.
Anyway, back to reality, and not the bizarre twilight that Sacerdotus lives in.
Rosa Rubicondior has this wonderful description of himself on his blog:
… a materialist rationalist who took a decision to be led by the evidence many years ago and who thinks the Universe is wonderful enough without magic and forever-hidden mystery, and that being an evolved ape, 3.5 billion years in the making, is infinitely more marvelous than being the unworthy product of a magician who made me out of dirt.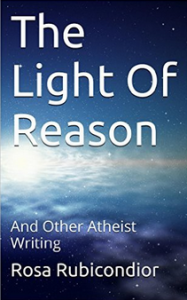 So, the reason Rosa gets this week's bouquet is that he has released a book, The Light of Reason And Other Atheist Writing. You can get The Light of Reason here. It's only available on Kindle at the moment, but that could change if it achieves the popularity it deserves. I started reading it via the Kindle sample on Friday, and I had to go ahead and buy the full version – it's great.
(Because of that I toyed with giving Rosa the brickbat rather than the bouquet. I still haven't read all the books I got last Christmas, and at the moment I don't want to want to read another book. I feared that would give the wrong impression though, so bouquet it is!)
Rosa says on his blog he put the book together following many requests from readers, and I'm glad he listened. Following a foreword, most of the book is a selection of his writings, which he's separated into four sections: "Religion and Atheism," "Evolution and other Science," "Religious Apologetics," and "Silly Bible." As Rosa says:
There is no narrative, so readers can dip into it at leisure without losing any plot, much as they can browse through a blog archive. Ideal for Atheists looking for a deeper understanding of the sciences, or wanting to find Bible criticism without having to read the Bible yet again. Ideal for the beach, for journeys for relaxation and as light bedtime reading.
The first chapter in the first section (Religion and Atheism) is entitled "The Light of Reason," where Rosa talks about his own moment of recognition at the age of nine that it wasn't just the gods of the Egyptian, Roman and Greek myths that weren't real, it was the Christian god too. Then, in a chapter titled "What Makes You So Special," he eloquently explains, so even non-scientists like me can understand, the whole process of how the Big Bang works that led to us. As Carl Sagan said (and Rosa quotes in more length) "we're all made of stardust." Rosa explains how.
After reading this, I coincidentally got a tweet from Amy Carparelli (who deserves a permanent bouquet) (@AmyAmylou1993 on Twitter). She had sent me the latest update from ESO (European Southern Observatory) about the Top 10 Discoveries of their Very Large Telescope in Chile. As well as astronomical discoveries, the astronomers confirm scientific hypotheses about the origins of our universe, and some of these are outlined in the latest ESOCast. Some of the things talked about here are the same ones I'd just been reading about in Rosa's book:
So good on you Rosa for producing this collection of your work. I'm looking forward to reading more of it, and I thoroughly recommend it to others. If you don't have a Kindle, you can still enjoy Rosa's work at his website. Go to this recent post: Why Is the 'Intelligent Designer' Siding With Bacteria?. At the bottom right of the page you'll see this box:

Just enter your e-mail address and click submit – you won't regret it.