Two days ago Vice News released a short documentary filmed in March. Their reporter Kaj Larsen was embedded with the Nigerian Army as they battled Boko Haram and freed the town of Bama from occupation. In an attempt to increase his popularity leading up to the election, President Jonathan had finally given the army the support they needed to mount a proper campaign. I saw a short version of this film earlier in this week, which was what prompted me to write yesterday's article Boko Haram: The Scourge of Nigeria.
Larsen describes Nigeria as "… one of Africa's richest nations". It is in fact Africa's wealthiest, and also its most populous. With a population of almost 160 million, one in four Africans are from Nigeria. (There are only nine black billionaires in the world – four of them are Nigerian.) There is huge inequality though – in 2013 unemployment was estimated at almost 30% and at that time was expected to rise.
Nigeria also has huge corruption. Transparency International ranks Nigeria 136/175 in corruption with a score of only 27/100. (New Zealand, for example ranks 2/175 with a score of 91/100; Canada: 10/175, score – 81/100; Australia: 11/175, score – 80/100; Great Britain: 14/175, score – 78/100; USA: 17/175, score – 74/100).
Nigeria gained its independence from Great Britain more than fifty years ago, but it took until 2011 before it had it's first democratic, corruption-free election. That election saw Goodluck Jonathan (PDP – People's Democratic Party) become president, and it was a huge achievement for that country when he voluntarily conceded power after losing the 2015 election to Muhammadu Buhari (ACP – All Progressives Congress) two weeks ago. The main thrust of Buhari's campaign was a promise to fight the corruption that is as great a scourge as Boko Haram. He is also expected to do a better job standing up to Islamist extremists. Buhari is a Muslim with a brutal history of instituting the worst of Sharia punishments, but during the election said he stood for freedom of religion, and his recent history shows him to be the "reformed democrat" he claims to be. Jonathan is a staunch Christian whose political power base is in the south of the country, which suffers much less from Boko Haram's terrorist activities. His administration faced frequent and serious allegations of corruption, and he often seemed reluctant to tackle Boko Haram. The Economist has described Buhari as the "least awful" option, and I agree with the assessment.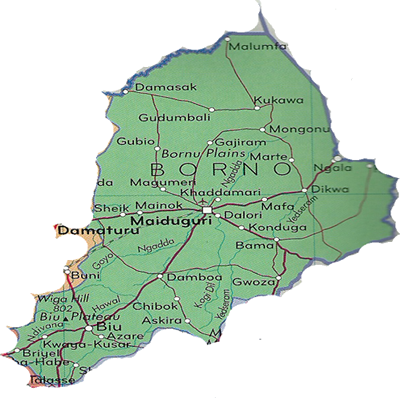 In Larsen's story, Maiduguri appears to be a fairly small town. Maiduguri, the capital of Borno state, actually has an estimated population of two million, further swelled by tens of thousands of people internally displaced from other Borno towns and villages destroyed by Boko Haram. Other towns too appear small, especially now that they're abandoned and their people have fled elsewhere. The 2006 census put Bama's population at almost 270,000, Gwoza's population at more than 276,000, and Konduga at 13,400.
The soldiers fighting Boko Haram speak of their feeling of brotherhood, Muslims and Christians together against a devil. They do not see Boko Haram as the Sunni Muslims they themselves claim to be. Abubakar Muhammad Shekau, the current leader of Boko Haram, is a former theology student. Both he and its former leader (Muhammad Yusuf) were inspired by the teachings of a fourteenth century fundamentalist Islamic scholar Ibn Taymiyyah. Ibn Taymiyyah was a strong proponent of jihad. He wrote:
It is in jihad that one can live and die in ultimate happiness, both in this world and in the Hereafter. Abandoning it means losing entirely or partially both kinds of happiness.
This type of philosophy is why Islam is so often labelled a death cult. It is exactly this mindset that those like Maajid Nawaz of the Quilliam Foundation, who are trying to reform Islam from within are trying to counter most. It's also the second of the five amendments Ayaan Hirsi Ali calls for to Islam in her new book, Heretic (excerpt here). Her concern is that many Muslims give more credence to live after death instead of life before death, and this needs to change.
The military part of the Vice News video finished with the liberation of Bama. Gwoza has since been liberated too, and the new president, Buhari, has vowed to continue the fight until Boko Haram is destroyed. However, as Boko Haram are inspired by a religious motive rather than politics, that may not be as easy as killing their fighters.
It is notable that the Nigerian soldiers also view their fight in many ways as a religious one. Christian and Muslim together, they see themselves as soldiers in a Just War. Nineteen minutes in, a group of them are filmed giving thanks to God, giving him the credit for keeping them alive while Boko Haram are dying. That is evidence to them that they are fighting the Good Fight. The Christian soldiers also attended a church service just before the final push into Bama.
Northern Nigeria is already much poorer than the wealthy south, and Boko Haram has made the situation of the people there much worse. In addition, hundreds of schools, both Christian and Muslim, have been closed because of the fear of attack. The children who should be attending those schools are being left less able to make a good future for themselves.
Once again, adherence to a religious teaching over humanist values is destroying the lives of millions.