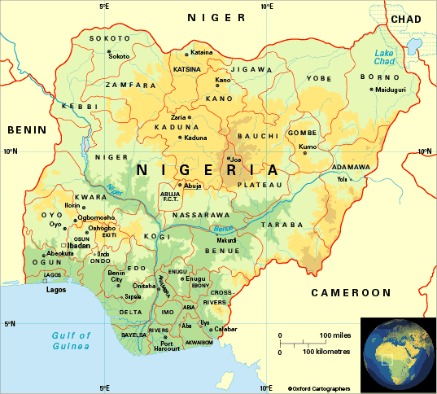 It's been just over a year since 219 girls were kidnapped from a school in Chibok, Borno State, Nigeria by Boko Haram. That atrocity prompted the #BringBackOurGirls campaign. Those girls still aren't home, although there has been a report that some were seen in Gwoza just three weeks ago. (More on the significance of that sighting later.) The Chibok abductions weren't the first carried out by Boko Haram, and they weren't the last either. Amnesty International reports that at least 2,000 women and girls have been abducted by Boko Haram since January 2014. Hundreds of other students have also been murdered, especially if they are male or Christian, as have thousands of other civilians – Amnesty International's estimate is at least 5,500 since January 2014.
Boko Haram (meaning 'Western education is forbidden' in the Hausa language), also known as Jama'atu Ahlissunnah Lidda'awati wal Jihad (People Committed to the Propagation of the Prophet's Teachings and Jihad), has been destroying the lives of the people of Nigeria, especially the north-east, since they were established in 2002 by Muhammad Yusuf. They were dubbed the 'Nigerian Taliban' early on, and established an enclave in northern Nigeria in 2003 they called 'Afghanistan', which was later destroyed by security forces after complaints from locals.
Boko Haram came to the rest of the world's notice following a failed attempt to fulfil their goal of making Nigeria into an Islamic caliphate on 26 July 2009. They carried out an uprising in four cities across four states: Bauchi (Bauchi), Maiduguri (Borno), Potiskum (Yobe) and Wudil (Kano). There were also attacks of the police and United Nations headquarters in the national capital, Abuja. By the time the violence had ended, more than 1,000 people were dead and Boko Haram's leader, Yusuf, had been captured. He was later executed while in police custody.
According to Wikipedia, local Muslim leaders had repeatedly warned officials about the group, and a military official had also reported about them to his superiors, but those warnings were reportedly ignored. There is dispute over whether the origin of the violence was political or religious, but there are eye witness accounts of several people being killed because they refused to convert to Islam. Timothy Ola of the Nairaland Forum of Maiduguri spoke to an anonymous eyewitness of the murder of three Christian pastors. Ola reported the witness said:
"The pastors alongside one Ibo man were asked to change their faith to Islam like they did to other people taken as hostages. I think there was an argument by one of the pastors which gave the others some level of confidence to also resist accepting Islam.

"The Yusufiya men who were armed on that Tuesday afternoon were not comfortable with the pastors and they took one of them to the sect leader in his inner chamber. They came out later to the courtyard within the compound and cut their heads one after the other and thereafter, shouted Allah akbar [sic] in wild celebration accompanied with several gun shots."
Abubakar Muhammad Shekau, a former theology student with an eidetic memory, took over the leadership of Boko Haram following Yusuf's death. Some blame the manner of Yusuf's death for the increase in Boko Haram's violence from this point. Although this may have been the cause initially, I consider the increased savagery to be a direct reflection of the leadership of Shekau. Both Shekau and Yusuf are inspired by the fourteenth century fundamentalist Islamic scholar Ibn Taymiyyah. Ibn Taymiyyah was a strong proponent of jihad and wrote:
It is in jihad that one can live and die in ultimate happiness, both in this world and in the Hereafter. Abandoning it means losing entirely or partially both kinds of happiness.
The BBC also reports that since 2009 the group has since become, "… more radical and carried out more killings."
They also comment on some of the tactics of Shekau himself in leading Boko Haram:
When Muhammad Yusuf was killed, Shekau is said to have married one of his four wives and adopted their children – perhaps, say sources who do not want to be named, to preserve Boko Haram's cohesion or "purity".

Shekau does not communicate directly with the group's foot soldiers – he is said to wield his power through a few select cell leaders, but even then contact is minimal.

… Shekau issued a chilling message in one of those appearances – which provides a major insight into what his leadership of the group will bring.

"I enjoy killing anyone that God commands me to kill – the way I enjoy killing chickens and rams," he said in the video clip released just after Boko Haram had carried out one of its deadliest attacks, in January 2012, killing more than 180 people in Kano, northern Nigeria's largest city.
Boko Haram has also carried out multiple prison raids in order to free their comrades. Since 2009 these raids have resulted in the escape of well over 2,000 prisoners, including more than 500 in a single raid on a prison in Maiduguri in 2009.
The goal of Boko Haram has always been to establish an Islamic caliphate. However, the Nigerian army is too strong and Nigeria itself too well established for that to happen. In the last year though, Boko Haram has had much more success.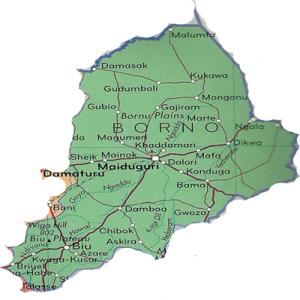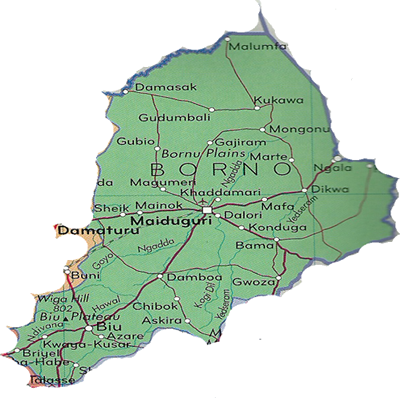 It was around April 2014 things changed, the month the girls of Chibok were abducted. That was when, according to anti-terrorist think tanks such as Red24, Boko Haram began to change their tactics. It appears they had been learning the lessons provided by the success of DAESH, just as the rest of us were, when DAESH suddenly became the world's best known terrorist organization. (In a video released in July 2014, Boko Haram expressed their support for DAESH and the goal of a worldwide Islamic state.)
Since the failure of the 2009 uprising, Boko Haram had attacked their targets, then retreated back into the bush with any spoils. From April 2014, they began to act more like a traditional invading army, not just attacking, but holding territory. Also, the attacks they made appeared to be more strategic, as if they had a goal, and although they were still active throughout Nigeria, especially the north and east, they were focusing more on Borno State.
On 14 August 2014, South African reporter Simon Allison concluded an analysis of the situation at the time with the words,
Following in the footsteps of the Islamic State in Iraq and Syria [DAESH], Boko Haram is almost certainly preparing to declare an Islamic state for itself.
Ten days later Abubakar Shekau released a 52 minute video that included the statement:
"Thanks be to Allah who gave victory to our brethren in [the town of] Gwoza and made it part of the Islamic caliphate."
In the previous few months, Boko Haram had made successful attacks throughout the northern and eastern part of Borno state and now held several towns. By early September, the Al Jazeera Center for Studies report estimated that more than 3,500 people had died as a result of Boko Haram's activities and tens of thousands more had been internally displaced. The BBC published a map (left) to describe the situation.
By this stage the state capital, Maiduguri was inundated with refugees, and the politicians there were frantically calling for help from the national government. Their fear, which seems reasonable given the way Boko Haram were conducting their attacks, was that they were the next target. If that happened the Maiduguri population of two million, lately increased further by refugees, would be cut off from the rest of Nigeria. There were multiple reports at that time that the Nigerian army was running away from the terrorists, even into Cameroon, and some were refusing to fight because they feared death at the hands of their sometimes better equipped opponents. (According to the Terrorism Research and Analysis Consortium (TRAC) in "… 2010, Abu Musab Abd al-Wadoud, the leader of AQIM told Al Jazeera that his group would provide Boko Haram with support and weapons to build strategic depth in Africa.")
The ongoing success of Boko Haram was one that President Goodluck Jonathan appeared unable to counter, and his popularity suffered as a result. He delayed the presidential election until he could provide the public with some examples of success. Eventually he did give greater support to his military, and they received further support from international partners. They in turn achieved several victories and the president gained enough confidence to schedule the elections for March.
A week before the election they took the town of Gwoza back from Boko Haram. That, however, was not enough to regain the confidence of the Nigerian people, and Jonathan conceded defeat to Muhammadu Buhari on 31 March. Buhari has a military background and has ruled the country before (1983-85) when the military took power in a coup d'etat, though now describes himself as a "converted democrat". Also in the past he has expressed a desire for Nigerian law to be Sharia, although during the election he campaigned on a religious freedom platform and stated that had always been his view. As a military hard man it is unlikely he will tolerate any challenges to his power, and he seems to have the confidence of the military, so I think we can expect him to continue and probably expand the current campaign against Boko Haram.
Three weeks later, the military still holds Gwoza, but there is so far no sign of the Chibok girls that were seen there just before it was liberated, or any of the other almost 2,000 women and girls Boko Haram has taken. There is at least one girl who has escaped from them though, and Amnesty International has produced this short video based on her testimony:
The activities of fundamentalist religious terrorists in central Africa like Boko Haram, al-Shabaab, the Lord's Resistance Army and many others don't get enough coverage in the Western media. We hear about a major atrocity and it dominates the media for a few days or weeks, then they slip off our radar again. In the meantime, literally millions of Africans, many of whom have a tough enough time just surviving every day, are suffering in truly awful ways. There aren't enough journalists in Africa to report on everything that's happening there, and the continent isn't wealthy enough to attract a lot of attention anyway. I don't know how we change this, but I continue to hope more will pay attention. However, Africa is going to see huge growth in both wealth and population over the next century, and this will force the rest of the world to take more notice.
Other Sources:
National Consortium for the Study of Terrorism and the Response to Terrorism: Background Report, Boko Haram, May 2014