I wasn't sure what to write about today, then I got The Author's weekly email. The Author is the brilliant Jesus and Mo cartoonist. His strip this week is about religious morality, and it brought to mind the big news story in New Zealand and Australia at the moment. It began on 9 April when Australian rugby star Israel Folau tweeted that all gays were going to hell. Further, he's not only standing by that statement, he's doubling down.
Throughout, Folau has made it clear that his stance comes from his Christian faith. Folau was raised Mormon then converted along with the rest of his family in 2011 upon joining the Assembly of God church.
Here's the Jesus and Mo cartoon concerned, for your enjoyment:
Just as an aside, I chose the pic in the header deliberately. It was not to display that lovely body, but the tattoo, which represents Folau's Tongan cultural heritage. Folau has been a strongly committed fundamentalist Christian his entire life, and says his beliefs about LGBT people come from the Bible. That would be the same Bible that says people who get tattoos are going to hell.
Of course, I'm not the only one who made that observation. Several people, including these two, made note of the Bible's statement in relation to tattoos.
Not mine but feel free to use it. pic.twitter.com/x5ranRMMYp

— Malcolm Grant (@MGRANT65) April 9, 2018
At least one other also brought up the verse about it being easier for a rich man to get a camel through the eye of a needle than get into heaven. Folau's rugby career has made him a very wealthy man.
Before we go any further, if you're not a New Zealander or Australian, or a rugby fan, you've probably got no idea who Israel Folau is, so here you go.
Who is Israel Folau?
Israel Folau (29) is a brilliant Australian rugby player. He plays for the Waratahs team in Super Rugby, which is an elite competition featuring teams from New Zealand (5), Australia (5), South Africa (5), and Argentina (1). (The number of teams varies from year to year. In 2018, there will be fifteen teams. Australia and South Africa will each drop to four teams and there will be a new team from Japan.)
Folau is a natural at sport. Before playing for the Waratahs, he was also both a professional rugby league and Aussie rules player. He's never made his religious faith a secret – far from it. When he scores a try for example, he always celebrates by thanking God and often tweets a pic of himself doing that along with hashtags also giving his thanks to the Almighty.
Grateful..☝⌚ #hiswillnotmine #glorytoyoualwayslord pic.twitter.com/2AMKQyHWIR

— Israel Folau (@IzzyFolau) March 18, 2018
And in the unlikely event you're in any doubt about his religiosity, this is his Twitter header:
His profile is too small to read without clicking through. It says:
I love God. Living the dream???? #TeamJesus????
How Did This Fracas All Start?
On 2 April, Folau posted this tweet:
???? pic.twitter.com/3mFNVjhi7l

— Israel Folau (@IzzyFolau) April 2, 2018
He'd also posted it on Instagram, where a mike_sephton asked him, "what was gods plan for gay people??"
Folau's response was, "HELL.. Unless they repent of their sins and turn to God."
That response has since been deleted, but a screen capture was put on Twitter by British rugby player Hugh Webster.
(I believe there was also a rejection of evolution as part of the conversation on the Instagram post, but no one seems to have made a copy of that.)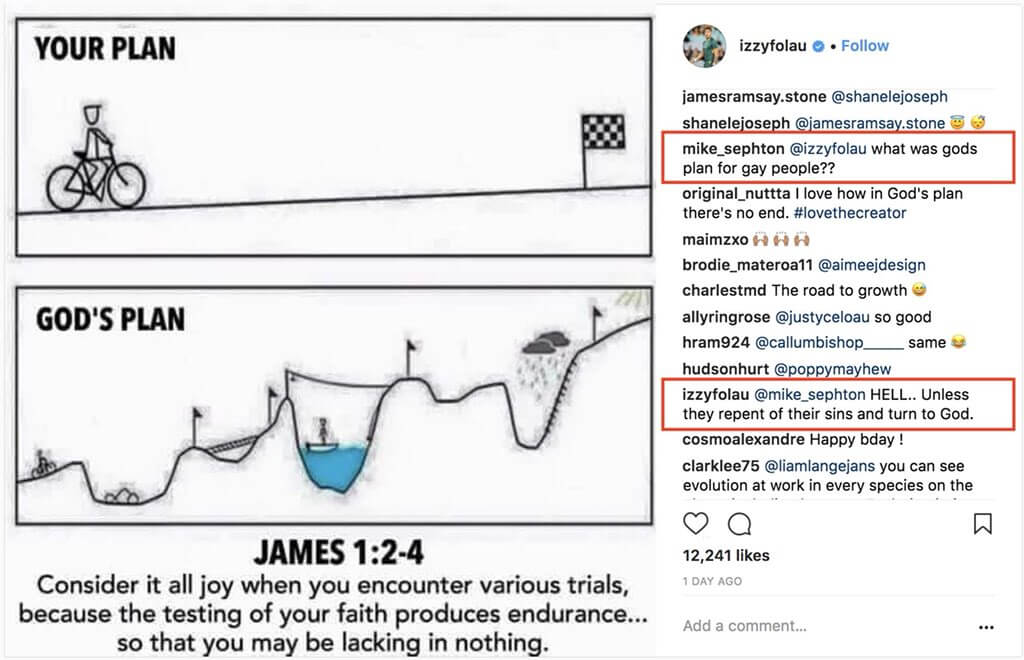 Why Ask Folau About God's Plan For Gay People?
This may all seem a bit "out of the blue." However, there's a history. You may remember me writing about the successful campaign for marriage equality in Australia last year (here and here). One of the leading voices for the "Yes" campaign was former rugby league star Ian Roberts, who came out as gay when his playing career was over. This set up a bit of competition amongst sporting bodies to have rules that were supportive of gay people and the Australian Rugby Union (ARU) gave its support to the "Yes" campaign. At the time, Folau controversially gave his support to the "No" campaign via Twitter.
Did Folau Break His Employment Contract?
Now there's no doubt Folau is entitled to his bigotry. However, although we have freedom of speech in Australia and New Zealand, I believe there's reason to think Folau doesn't have the right to express this opinion publicly. He's paid (a considerable amount) by the ARU. As an employee, he has both rights and responsibilities, and he has to follow the rules whatever his personal beliefs. The ARU has a policy of inclusion. That policy specifically mentions homophobic remarks. The wording is:
Rugby Australia's CEO Raelene Castle and the head of New South Wales' rubgy Andrew Hore have met with Folau about his comments. So far it appears he has got away with what he's said. He's sticking to his guns, and playing the victim card. Like many in his position, he appears to be saying he's being picked on because of his strong Christian beliefs.
Why Won't Folau Stop?
This is his tweet in response to the criticism he's getting:
????☝ #allglorytoGod pic.twitter.com/6XwkEV6GrH

— Israel Folau (@IzzyFolau) April 8, 2018
Like many whose religious beliefs make them bigots, he's saying that it's actually those who are disagreeing with him who are the bigots. I saw at least two supporters in the comments on his Twitter feed attacking the "Christophobes."
But this is not about hatred or fear of Christians. No one is saying that Folau isn't entitled to his religious beliefs. The problem is speaking about those views publicly in contravention with the rules of his employer. But like many with a strong fundamentalist faith, it's made him extremely arrogant. He's so sure that he is right in his version of what an unproven God believes, that he doesn't think he should have to shut up.
Like many, I believe that Folau is using the fact that he's such a good player to get away with his bigotry. Australia needs him in their international team to give themselves the best chance of taking the World Cup off New Zealand's All Blacks, but he says he'll resign if he can't continue to speak out about his beliefs. The ARU is scared he'll do just that if they make him stick to the rules.
Maria Folau neé Tuta'ia
Folau's wife, Maria Folau is a top New Zealand sportswoman. Most probably know her better as Maria Tuta'ia. She's a star of our national netball team, the Silver Ferns, playing 121 games for them since 2005. When this kerfuffle began she was playing consistently brilliantly (unlike most of the team) for us at the Commonwealth Games. However, now that the Games are over, she's come out in support of her husband.
(I had to join Instagram to link to this!!! I'm not happy!!!)
Folau made a comment on his wife's Instagram post (I haven't worked out how to link to comments yet, so this is just a cut and paste):
Speaking Out Against Folau: Nigel Owens and Gareth Thomas
To begin with, very few well known people were speaking out against Folau's comments. Thankfully, more and more people are now speaking out in opposition. Unfortunately, initially at least, very few of those are male sports people. The trouble is, there are very few openly gay men in world rugby (though there is obviously no need to be gay to speak out against anti-gay bigotry). There are two in Britain – former international referee Nigel Owens and former Welsh international Gareth Thomas. They have made the news speaking about this in the northern hemisphere, but their voices are barely registering here despite both names being well known.
Speaking Out Against Folau: Louisa Wall
In New Zealand the main person to speak out is Labour MP Louisa Wall. Wall is gay and a former New Zealand international in both rugby and netball.
Here are a couple of Wall's interviews on the topic, both from TVNZ.
The first was with '1 News':
This one is from 'Breakfast':
Speaking Out Against Folau: Brad Weber
Finally, current New Zealand rugby players are starting to speak out in opposition to Folau's comments. First there was Chiefs super rugby player Brad Weber:
My cousin and her partner, and my Aunty and her partner are some of the most kind, caring & loving people I have ever had the pleasure of knowing. To think that I play against someone that says they'll go to Hell for being gay disgusts me. ????️‍????????️‍????????️‍????

— Brad Weber (@brad_weber9) April 17, 2018
Speaking Out Against Folau: TJ Perenara
Then yesterday, TJ Perenara, vice-captain of the Hurricanes super rugby team and All Blacks player:
I'd like to add my voice to the conversation currently taking place. As professional rugby players, whether we like it or not, we are role models for a lot of young people. Notably, young Māori and Pasifika people.

— Tj Perenara (@Tj_Perenara) April 18, 2018
You don't need to look far to know that young Māori/PI are overrepresented in youth suicide statistics and, as I understand it, even more so when you look to those who are part of the Rainbow community. Comments that cause further harm cannot be tolerated.

— Tj Perenara (@Tj_Perenara) April 18, 2018
Let it go on record that I am 100% against the comments that were made by Israel. It was not ok to say that. It's not an attitude I want to see in the game I love. There is no justification for such harmful comments.

— Tj Perenara (@Tj_Perenara) April 18, 2018
To anyone, young Māori/Pasifika people especially, who may be struggling with their identity – please know that it is ok to be you. You are perfect as you are. Do not let these comments keep you from being yourself. Polynesia has been sexually diverse since forever.

— Tj Perenara (@Tj_Perenara) April 18, 2018
It is our normal. Don't let anyone convince you otherwise.

If you are struggling, please reach out. You are not alone. Check out this link for some support: https://t.co/bzngjiR0eo

— Tj Perenara (@Tj_Perenara) April 18, 2018
In the mean time, I have donated to the #NZFalcons campaign to support their involvement in the @BinghamCup2018 in June, the world championship of gay and inclusive men's and women's rugby. If you'd also like to support their campaign you can do so here: https://t.co/qQOK4yiVGH

— Tj Perenara (@Tj_Perenara) April 18, 2018
Both these men are halfbacks (aka fly-halfs). They're traditionally known as the ones who can't keep their mouths shut. In this case, that's a good thing!
Speaking Out Against Folau: Where are the Rest of You, Especially Rugby Players?
As Louisa Wall said, we have a suicide problem in New Zealand. It's especially bad with our Rainbow youth. You're all really good at talking the talk when it comes to mental health. Several of you speak up in support of mental health.
However, speaking out against damaging attitudes like those of Folau are just as important. Don't let at risk kids think that by your silence you agree with him. I mean, WTF is wrong with you? Are you going to let a couple of halfbacks be the only ones who get a tweet from Taika Waititi?
Shot TJ. And jaaaardup Israel. https://t.co/GZBARJhgch

— Taika Waititi (@TaikaWaititi) April 18, 2018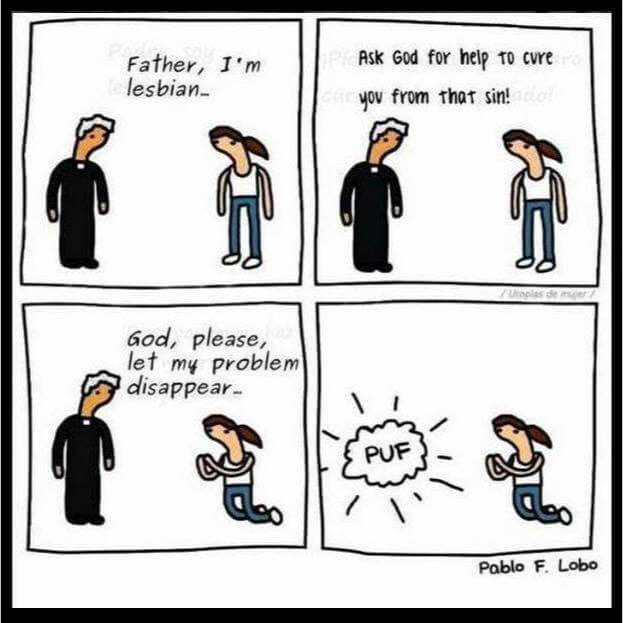 ---
If you enjoyed reading this, please consider donating a dollar or two to help keep the site going. Thank you.
---