It's a good thing I thought of a saint this week before I watched the rugby last night. Australia beat the All Blacks, and I have to be honest – Australia deserved the win. It's all a bit depressing. Later this afternoon New Zealand time it's likely to get worse too; the Silver Ferns, New Zealand's national netball team, is playing the Australian Diamonds, and the odds are in Australia's favour. Despite all this though this week's saint is a sporting one again.
Update 5.45 PM NZT: YIPPEE!!! I was wrong!!! The Silver Ferns played brilliantly! They're just beaten the Diamonds 52-47, breaking their two year winning streak. 😀
There were plenty of candidates for sinner this week, the major one being Donald Trump. His comments about women in general during the GOP presidential primary debate, and about Megyn Kelly in particular on CNN afterwards were appalling. Kelly is not the lightweight Trump suggests – she's tough, fair and smart. You don't find me defending Fox News commentators very often, but his childish response to her getting under his skin just demonstrates why he's unfit to be president. Perhaps he expected a Fox News moderator to go easy on him, but that's never been Kelly's style. However, I've saved the brickbat for a more serious issue than someone who's unlikely to win the GOP presidential nomination.
---
SINNER OF THE WEEK
Government of Burma/Myanmar
I wrote back in March about New Zealander Philip Blackwood who is in prison in Burma/Myanmar for blasphemy. The level of his offence was about as innocuous as it gets, but he was jailed for 2½ years with hard labour. In addition, of course, the conditions in prisons in the country are appalling. He sleeps on a pallet, and the toilet in the cell is just a hole in the floor. Wikipedia describes Insein Prison in Yangon, where Blackwood is held, as being, "notorious worldwide for its inhumane and dirty conditions, abusive techniques, and use of mental and physical torture."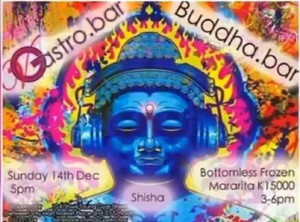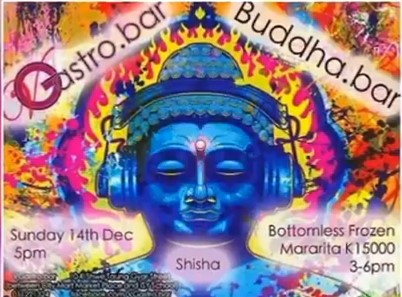 So what did Blackwood do? He and two colleagues posted the picture on the left on the Facebook page of V-Gastro, a tapas bar he manages. It was to advertise an event to occur a few days later. As soon as the bar/restaurant was advised it was considered offensive, they took the image down and cancelled the event. It was only on Facebook for a few hours.
When I originally decided on this week's sinner, I was going to present it to the New Zealand government for not doing enough to help Blackwood. However, that would have been unfair and unreasonable. It's not the New Zealand government's fault that Burma has a corrupt government in thrall to the right-wing monks, and it's not certainly not their fault that Blackwood grew up in a society where freedom of speech is the norm and people are pretty relaxed about differing opinions.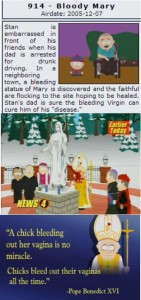 One thing that a series of New Zealand governments is responsible for though is failing to repeal our blasphemy law. When our officials talk to their counterparts in Burma, the argument that Blackwood comes from a culture where this sort of thing is not considered a problem is undermined by the fact we still have a blasphemy law. New Zealanders are invariably surprised when they discover it exists, even those who frequently use broadcasting standards to try and ban the broadcast of things like those episodes of South Park.
The reason Philip Blackwood is back in the news this week (as he should be every week) is that until recently there was some hope he would be released by presidential amnesty. As part of national celebrations, 7,000 prisoners were released and it was hoped Blackwood would be one of them. It must be so hard for Blackwood and his family to have been looking forward to that event, only to have their hopes dashed at the last minute. OneNews reports:
Mr Blackwood's father, Brian Blackwood, has said the family is extremely disappointed and feels let down by authorities in Myanmar and the New Zealand Government.
Prime Minister John Key says he understands more will be done for Philip Blackwood.
"I think it's fair to say the Government's keeping a close eye on the situation," Mr Key told reporters.
"With all of these things we do the best to provide support. But in doing so we want to make sure we don't make potentially the situation worse."
Mr Key says it's obviously very understandable that the family of Mr Blackwood are very disappointed he wasn't on the list.
"My understanding is that there will be some more work done, if I can put it in those terms. But that's for another day," Mr Key said.
Brian Blackwood has said his son is innocent of the charges because he had no intention of insulting religion and posting the image was just a mistake.
Blasphemy Laws must be abolished worldwide. Please check out the International Coalition Against Blasphemy Laws Charter here, and consider adding your name to the petition of the End Blasphemy Laws campaign.
---
SAINT OF THE WEEK
New Zealand Special Olympics Team
The New Zealand team to the Special Olympics returned home on Wednesday with a huge haul of 32 medals – 11 gold, 12 silver and 9 bronze. They did incredibly well and did the country proud.
This Olympiad, the Special Olympics were held in Los Angeles. There has been widespread praise for the fantastic job done by the Americans in hosting the event, and how well all the athletes were looked after. The New Zealand team certainly seems to have thrived in the atmosphere!
Special Olympics New Zealand trains over 7,000 athletes in thirteen Olympic sports each year. They conduct more than 200 events in around forty towns and cities around the country to select the best. Dozens of sponsors and hundreds of volunteers help in the running of their programme. As part it, they also run a Healthy Athletes screening programme to monitor the health of the athletes to make sure they don't suffer from any health issues as a result of their involvement.
One of the athletes deserves special mention even above all the others: Sherryl Saunders not only won a gold medal for breaststroke, she was awarded the Jill Vernon trophy for sportsmanship in aquatics. The decision was apparently unanimous. Saunders was unfailingly supportive to her teammates, especially those who were struggling, said officials. For many of the athletes it was their first time away from their families, let alone away from New Zealand, but they handled it superbly thanks to teammates like Saunders, and as their medal haul shows.