I wrote about New Zealander Philip Blackwood here in January when he was still awaiting trial after his arrest on 10 December last year. 10 December is International Human Rights Day, and so I thought it particularly ironic that he was arrested for his particular "offence" on that day. So what did he do? He, along with a couple of colleagues, posted the image below on the Facebook page of the tapas bar he manages to advertise an event there a few days later.
As soon as VGastro Bar was advised that the image above was considered offensive in Burma (Myanmar), they removed the image from the Facebook page, cancelled the event and apologized. They were arrested anyway, charged, and incarcerated in Yangoon's Insein Prison, infamous for being the prison that also held Aung San Suu Kyi during three periods in 2003, 2007, and 2009. Wikipedia describes Insein Prison as being, "notorious worldwide for its inhumane and dirty conditions, abusive techniques, and uses of mental and physical torture".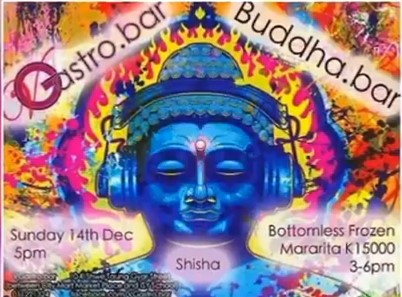 Blackwood, originally from Wellington, (32) and two local men, Tun Thurein (40) and Htut Ko Ko Lwin (26), faced a maximum sentence of two years hard labour on the blasphemy charge, and all received that maximum. They were all sentenced to an additional six months for disobeying an order from a public servant. Tun Thurein own's the VGastro bar and Htut Ko Ko Lwin, like Blackwood, is a bar manager there. Amnesty International has condemned the sentence.
On TVNZ this morning opposition Foreign Affairs spokesman David Shearer said,
"I suspect that the judge is coming under some pressure from hard-line monks, Buddhist monks, there for a sentence which is going to set an example for others."
He could be right – the government is desperate for the support of the monks in upcoming elections. Further, a group of monks had gathered outside the court to hear the sentence, perhaps ready to protest if the verdict didn't go their way.
The organisation Fortify Rights documents human rights abuses and advocates in Thailand and Myanmar.
Executive director Matthew Smith said the conviction was an attack on freedom of speech.
"The trial should have never happened in the first place. But certainly the condition in the sentencing is outrageous," he said.
"It's really indicative of the rising tide of this extremist form of Buddhist nationalism that we've been seeing in Myanmar for quite some time."
The head of human rights group Burma Campaign UK said he could not comprehend the punishment.
"It's a ridiculous sentence," said director Mark Farmener. "Two and half years just for a post with Buddha wearing headphones is completely unjustified.
"This is the Burmese (Myanmar) government with an eye to the elections later this year trying to play the Buddhist nationalist card, hoping it can help win it some public support."
Mr Farmener said the New Zealand government should pressure Myanmar to have Blackwood released.
However, Radio New Zealand reports that the Ministry of Foreign Affairs and Trade (MFAT) has stated it will not be intervening in the case, although a local embassy official had been in contact with both Blackwood and his family. New Zealanders are subject to the laws of other countries when they are present in them, and as such there is basis for the government to intervene.
Besides, it would also be extremely hypocritical of New Zealand to complain about a New Zealander being charged with the non-crime of blasphemy when we still have a blasphemy law on our own books. If nothing else, that law must be repealed forthwith.
Insein Prison, which holds Blackwood and his colleagues, contains other people convicted of non-crimes. One is Sithu Zeya, a 21-year-old (when he was arrested) video journalist for Democratic Voice of Burma who was arrested in 2010 after filming an attack on Saffron Revolution protesters by the military junta and its aftermath. All Saffron Revolution protests strictly used tactics of non-violent resistance. He received an eight year sentence for being in contact with "illegal organizations".
"Illegal Organizations" includes most foreign media, including the Democratic Voice of Burma which is based in Norway. All media in Myanmar/Burma is censored by the state. Burma ranks 145th of 180 countries in the 2014 World Press Freedom Index. (New Zealand ranks ninth, although we rank first among majority English-speaking nations.) According to Reporters Without Borders, in September 2011, a further ten years was added to his sentence "… on a charge of circulating material online that could "damage tranquility and unity in the government" under the Electronic Act."
In 2010, Ngwe Soe Lin, who also works for the Democratic Voice of Burma, was imprisoned in Insein Prison for thirteen years for violating the same laws as Zeya reports the BBC. His lawyer stated there was no proof and the charges would be appealed, but Lin remains behind bars. There are others too.
It seems bringing false charges against journalists isn't enough for Burma's military rulers though. In October last year, they murdered journalist Aung Kyaw Naing. The military junta was officially dissolved in 2011, but there is evidence they are having trouble letting go of power. "This murder is a tragic demonstration of the government's step backwards over the past year," said Benjamin Ismaïl, head of the Reporters Without Borders Asia-Pacific desk.
From Reporters Without Borders:
Lucie Morillon, the free press organization's programme director, also raised the issue of accountability. "We remind the Burmese government of the importance of fighting impunity," Morillon said. "Last year, we brought to the attention of President Thein Sein and Deputy Information Minister Ye Htut the need to identify those responsible for army crimes against Burmese and foreign journalists under the junta. That task is vital for changing the mentality of the security forces and promoting a sense of responsibility among them."
It was these security forces that murdered Naing. He disappeared on 30 September and his wife contacted the media, but it was not until 25 October that they were told he was dead and had been buried three weeks earlier. False allegations had been made that he was a member of an armed secessionist group, and the army said he was shot while trying to grab a soldier's weapon.
Blackwood, Thurein and Lwin will be appealing their sentences – I really don't think there is much hope of success. In Burma, the judiciary clearly isn't independent and the government has an interest in keeping these men imprisoned.
Please visit my ICABL Charter page and consider adding your support to the International Campaign Against Blasphemy Laws. This verdict in Burma sees three more innocent people victimized by religion and suffering, along with their family and friends.