Short answer: No.
In fact, they won't even give him a hearing.
President Obama has done his Constitutional duty and made a nomination to fill the vacancy on the US Supreme Court left by the death of Justice Antonin Scalia. It is Judge Merrick Brian Garland, who currently serves on the Court of Appeals for the District of Columbia Circuit. He is reported as being a centrist – left of centre on guns, but right of centre on criminal matters.
The rules in the United States for Supreme Court nominations are that the president makes them, and the senate has the right to approve or reject those nominations. This apparently used to be a fairly routine procedure, taking around a week. This all changed in 1967 with the nomination of the first black candidate, Thurgood Marshall. At that point the average ballooned to more than two months. According to NPR, the justices on the current court (including Scalia) faced an average of 71 days before they were confirmed.
The longest time it has ever taken for a nominee to be approved is 125 days. That was in 1916 when Judge Louis D Brandeis had to face nineteen hearings before he was confirmed. There is well over double that time available until Obama's term of office ends.
Republicans are citing multiple reasons for their refusal to give Garland a hearing, but none of them stand up to scrutiny in my opinion.
The leader of the Republican opposition to giving Judge Garland hearing is Senate majority leader Mitch McConnell of Kentucky. In 2010 in a speech to the Heritage Foundation, McConnell announced that his party's "… top political priority … should be to deny President Obama a second term." At the time (September 2010) an NBC/Wall Street Journal poll, McConnell's approval rating was 12% positive, 20% neutral and 18% negative (50% said they did not have an opinion). His consistently negative leadership and actions since have not improved his perception in the eyes of the public. In fact, McConnell is the only senator in government that has a negative approval rating with his own constituents. In a story published in YouGov on 6 December 2016:
Senate Majority Leader Mitch McConnell (R-Kentucky) has a 52% disapproval rating, according to polling data published in Morning Consult. He's the only senator with a disapproval rating over 50%; the next senators on the list, with 41% disapproval ratings, are Republicans Pat Roberts of Kansas and John McCain of Arizona.

Nor does McConnell have many who approve of the job he's doing. At 38%, he barely edges out Democrats Bob Menendez of New Jersey, who's under indictment, and Gary Peters of Michigan, each at 37% approval.
Given the importance of McConnell's position, Gallup also looks at McConnell's approval rating both amongst Republicans and with all USians. Even Republicans currently do not approve of the job McConnell is doing: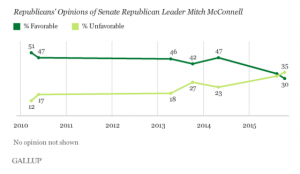 As would be expected, the view of McConnell amongst all USians is even lower: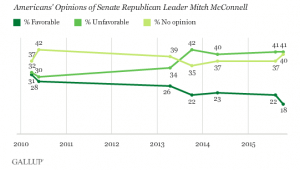 On the other hand, despite being in the eighth year of his presidency, Obama's approval rating amongst all USians is still relatively high at 50% (81% amongst Democrats), and is currently at its highest level since May 2013: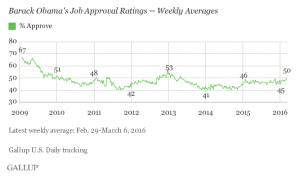 Senator McConnell is trying to frame his decision to refuse a hearing for Judge Garland as one of principle. However, there are currently seven of his colleagues who have indicated that are prepared to hear Garland. They are: Rob Portman (Ohio), Kelly Ayotte (New Hampshire), Mark Kirk (Illinois), Jeff Flake (Arizona), Susan Collins (Maine), Chuck Grassley (Iowa) and Jim Inhofe (Oklahoma). Interestingly, six of these (all except Inhofe) are senators that are up for election in states that voted for Obama. These senators clearly realize that the refusal to hear an eminently qualified candidate for the Supreme Court is one that they will be unable to defend to their constituents. Ayotte and Grassley in particular had previously spoken out strongly against Obama nominating a candidate to fill the vacancy.
The Republican Party has always tried to frame itself as the protectors of the US Constitution – their chief praise of the late Justice Scalia was that he was a constitutionalist. However, in this case they are failing to meet their constitutional responsibilities by refusing to even hold a hearing for Judge Garland and thereby demonstrating they do not have the courage of their convictions.
Another reason the Republicans are using as justification for their inaction is that back in 2006 when he was a senator, Obama himself filibustered the hearing of Judge Alito. In February, Obama said he now regrets he did that. However, who's to say whether he would still regret it if the current situation hadn't arisen. What is true though is that the situations aren't directly comparable. When Alito was nominated, he was given a hearing, and there was no doubt he would eventually be nominated whether or not Obama went forward with his filibuster.
McConnell is also using the so-called "Biden Rule" as a reason to deny giving Judge Garland a hearing. This comes from a speech vice-president Joe Biden made back in June 1992, when he said Supreme Court nominations made in a president's final year of office shouldn't be confirmed. Of course, this never actually became a rule, the speech was made much later in then President HW Bush's term, and Biden never said that a nominee should not even be heard. I don't think McConnell is going to win any arguments by citing a 1992 speech by a (then) minor Democratic senator over the US Constitution.
The truth is, if the boot was on the other foot, the Democrats would by and large be making the same arguments as the Republicans are now, and they would be just as wrong. I don't even know if it's possible any more, but wouldn't it be nice if the Republican party took the high road and did the right thing?
Having said all that, I do think it possible that once the parties have their nominations for president sorted out, the Republicans will give in and at least hold a hearing. If Cruz is the nominee, he will frame this as being the right thing to do. If it's Trump, they'll know they've lost anyway. Even in the unlikely event Trump wins the presidency (currently I think it's about 60/40 against), the Republicans can't guarantee extremely conservative nominees like Scalia anyway.
I want to know exactly what the Republicans think they're achieving by refusing to let the Garland nomination go ahead. Currently there are four Republican appointments and four Democratic nominations on the court. The Garland appointment will change the 5/4 balance from Republican to Democrat. Whatever happens, the next president will have three more appointments. If that president is Republican, they will have the chance to change the balance back to their favour anyway. This refusal to carry out their constitutional duty is pointless.
I think it is also worth pointing out that the United States is the only country in the OECD whose Supreme Court appointments are for life. All other OECD countries have limits of some kind.