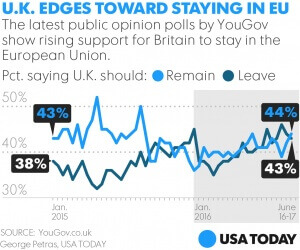 On Thursday Britain will vote on whether or not to remain in the European Union. This is a vitally significant decision for both Britain and Europe and in my opinion, far more important than a general election. It will have far-reaching consequences that will last generations.
The vote is happening because prime minister David Cameron was stupid enough to promise a referendum on the matter during the general election, though to be fair he thought there was no danger Britain would actually vote to leave the EU – the so-called British Exit or Brexit.
At first, those politicians opposed to Brexit didn't even campaign for it as they were so sure it wouldn't happen. Then various opinion polls started showing that more and more people were being persuaded to the Brexit camp and they suddenly had to start speaking up for their cause.
Since the opinion polls started showing that a Brexit was possible the value of the British pound has steadily fallen, giving a consistent indication of what the world financial markets think of the move. Today, with a poll showing that the mood has changed, it has suddenly rallied for the first time in months.
I can't help thinking that the tragic murder of MP Jo Cox on 16 June has something to do with that change in mood. Cox was a passionate supporter of the Remain campaign, and when the man charged with her murder stood up in court he would only say "My name is death to traitors, freedom for Britain." It has also come to light that he was a long-time supporter of multiple neo-Nazi, white supremacist, and pro-apartheid groups. That reminded people that many of the people who lead the Brexit campaign, while in no way as extreme as the killer, have similar leanings. To me, one of the more powerful arguments against Brexit was just who was supporting it – people like Nigel Farage (leader of far-right political party UKIP), Donald Trump, and Vladimir Putin.
Today, reader Diana McPherson shared the following video on Facebook. It outlines all the reasons I support Britain remaining in the EU, and is far more entertaining and interesting than me. (Like Diana I'm a bit of a fan of John Oliver, so it's always good to have an excuse to add a clip from him too!) Make sure you watch it right to the end – his re-writing of the EU anthem is hilarious!
I really hope the British vote to remain in the EU. Imperfect as it is, it's still an example of multiple countries cooperating for peaceful reasons and the betterment of their citizens. It will be weaker without a country with the size and influence of Britain, and Britain will be the poorer, both economically and socially, without it.
I'm going to stick my neck out and predict that the vote will be to remain, and that the number of supporters will be significantly larger than the polls currently show.