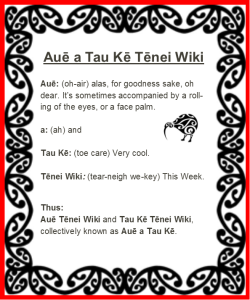 As a New Zealander, I'm proud to say that my country is not only improving the facilities for new refugees coming here, but increasing our capacity so we can take even more than we do currently. Pride wouldn't normally be my response in this matter. As one of the wealthier countries in the world I consider the resettlement of refugees, paid for by the taxpayer, no more than our duty. However, I'm so disgusted and outraged by the hate-mongering by so many (mostly) right-wing politicians, especially in the United States, that it's made me realize (again) how lucky I am to live in New Zealand.
At the moment we take around 750 refugees per year via the UNHCR (United Nations High Commissioner for Refugees) programme. It may not sound a lot, but we're a small country, and they're given a lot of expensive support to help them adapt to life here. Indeed, our programme is recognized as being one of the better ones internationally.
On arrival, they're initially housed at the Mangere Refugee Resettlement Centre in Auckland for six to eight weeks. There, they complete an initial orientation programme that includes such things as English language, law, local customs, and how to shop. They also receive physical and mental health checks to ensure any ongoing needs in that area are properly met.
The Centre works closely with the Red Cross. The Red Cross helps with such things as obtaining a bank account, IRD (NZ equivalent of IRS) number, employment, housing, furniture, and social welfare benefits (if required).
Several other government and non-government agencies also contribute to the orientation programme.
After the initial orientation period, refugees move to either Hamilton, Palmerston North, Wellington, or Nelson. Those cities each have their own refugees programmes, and the Red Cross provides major support there too. In addition, each refugee, or family, is assigned an individual social worker for at least a year to help with ongoing issues.
It was announced tēnei wiki that a second refugee resettlement centre would be built in Dunedin. From the Otago Daily Times:
"Dunedin has a strong set of services and is a well-connected city where a number of government agencies have a presence," Immigration New Zealand general manager Steve McGill said today.

"There are good employment opportunities in the area, suitable housing is available and there is excellent support from the community."

Mr McGill said in a statement an extra settlement location was needed after the Government's decision to welcome 750 Syrian refugees over the next two and a half years in response to the ongoing conflict in Syria.

Dunedin was considered alongside New Plymouth, Hastings/Napier, Invercargill and Tauranga.

In making the decision, factors such as employment, housing and the availability of Government services available alongside community support were considered, he said.

In September, Dunedin Mayor Dave Cull called for a refugee centre in the city, and last month a new grouping of social agencies, the Dunedin Refugee Steering Group, told the council it wanted the city to be considered as a centre for refugee resettlement.
The New Zealand government's decision to take more refugees from Syria via the UNHCR programme was largely prompted by public opinion, and is supported by all opposition parties. Indeed, some want the government to take even more.
In contrast, the US Republican Party is doing all it can to scuttle President Obama's decision to take more UNHCR refugees from Syria. Congress (currently held by the GOP) has passed a law, with support from several Democrats, that would make it almost impossible for a Syrian refugee to go to the United States. The law still has to go through the Senate, and Obama has promised to veto it, but the fact this is happening is pure partisan politics.
Fear and hate have been driving the debate in the US, and the facts haven't got a look in. The recent terrorist attacks in Paris have just upped the rhetoric. One of the terrorists apparently came from Syria with the hundreds of thousands of refugees that have been crossing into Greece recently, and thus "Syrian refugee" has been conflated with "terrorist." The fact that most of the terrorists were European citizens, and that the refugees coming through Greece are not the same as those that come through the UNHCR programme, is being completely ignored.
The worst thing is, the politicians who are using this issue to gain attention KNOW that UNHCR refugees are safe. It takes 18-24 months to go through all the refugee process checks, and those checks occur BEFORE the refugee arrives in the United States (or New Zealand). They are people who need our help, and they are being demonized by self-seeking a-holes who want to lead not only the country, but the free world.
A week ago, Chuck Todd presented a report about US refugees on Meet the Press, which reader Ken found, and I posted on the Heather's Homilies Facebook page. Some of the facts from this report are:
1. Since 9/11 about 785,000 refugees have been admitted to the United States.
2. About a dozen have been arrested or deported due to terrorism concerns (i.e. roughly 1/1000th of 1 percent), none of whom were Syrian.
3. Since 9/11, the UNHCR has referred 23,092 Syrians to the United States for refugee status.
4. Only 7,014 were accepted to the next step and interviewed by Homeland Security.
5. Only 2,165 were admitted into the United States as refugees.
He also points out that the biggest risk is those who come into the country as tourists or students from countries that are part of their 38-strong visa-waiver programme. A terrorist from France or Belgium with no criminal record could get into the United States easily just by boarding the next plane. They wouldn't waste their time going through the time-consuming UNHCR and Homeland Security refugee process, which would also risk them being identified and getting on the radar of security services.
Despite this, the fear-mongering continues and appears to me to be creating a climate of hatred towards Muslims in the United States. This sort of irrational hatred is in my opinion likely to cause resentment in, and marginalization of, young Muslims, making them a target for radicalization. Thus, for the sake of driving up their poll numbers, a few politicians may in fact cause the terrorist attack they insist they're trying to avoid.
Although we haven't had one yet, New Zealand isn't immune from from DAESH-style attacks. We were mentioned in one of their latest videos as a potential target due to our military helping to train the Iraqi military. However, I'm pleased that it hasn't resulted in a majority of my fellow Kiwis turning against those who need our help the most. And I have to credit our politicians too – none has tried to take advantage of the situation like so many in other countries have.