It wasn't this week, it was last year – 20 December 2015 – but I only found out about it yesterday and it's so cute that I decided to make an exception. 🙂
Monterey Bay Aquarium in California is an institution dedicated to conservation of the oceans (especially around California), associated research, and public education. They also make recommendations on public policy related to those areas.
At the aquarium is a tide pool (called The Great Tide Pool) that wild otters, which are a focus of the aquarium's research, can access. It's a protected basin where they can rest from winter storms. Staff noticed that a female otter was visiting the pool regularly in mid-December, which is apparently rare for a healthy animal.
According to ZooBorns:
The night before her pup was born, just as the Aquarium closed, she was spotted [again] slinking into the pool.
The next day they discovered why – the otter was resting in the pool with a newborn pup resting on her belly!
(All photos from Monterey Bay Aquarium)
In the first photo, taken about 8.30 am, the umbilical cord is still attached, and the placenta is still visible being discharged.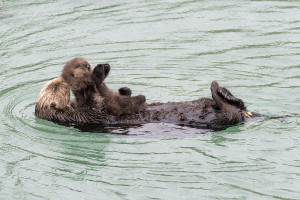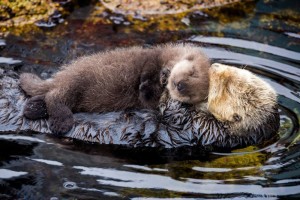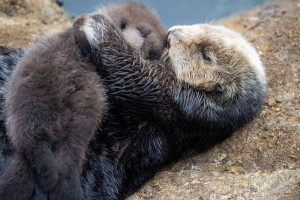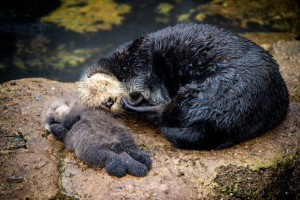 And it gets better – there's even video:
Monterey Bay Aquarium has a blog, which is keeping its followers up to date with the progress of the pair. According to the blog, sea otters were once hunted to near extinction and by the early 1800s there were only about 50 left in California. They report:
But now, thanks to legislative protection and a change of heart toward these furriest of sea creatures, the otter population has rebounded to steady levels in the Monterey Bay, and with 3,000 total in central California.
There are whole lot of gorgeous sea otter pictures on the blog, and I learned while looking at Pup 696 (a rescue pup) having a belly brush, that otters have a million hairs per square inch – more than any other animal.
There are a series of live web cams at the aquarium too, which you can access here.