The final section of my last post, 'Kavanaugh Conformation and Ford Accusation', was "There's Never Just One Victim". (Of course, there were two in that post – Christine Blasey Ford and Debbie Ramirez.) It included a tweet from lawyer Michael Avenatti referring to bombshell revelations to come.
I updated that post with a transcription of an Avenatti email noting, "… Avenatti has so far always come through with public claims of evidence." Today he did that.
First, here's the transcription of the emails.
Mike Davis Email
From: Davis, Mike (Judiciary-Rep)
Sent: Sunday, September 23, 2018 4:42 PM
To: Michael J Avenatti
Subject: SCOTUS — Avenatti claim of evidence
Dear Mr Avenatti
According to your Tweet from 7.33 p.m. E.T this evening, you claim to have information you consider credible regarding Judge Kavanaugh and Mark Judge. Please advise of this information so that Senate investigators may promptly begin an inquiry.
Thank you,
Mike Davis
Mike Davis, Chief Counsel for Nominations
United States Senate Committee on the Judiciary
Senator Chuck Grassley (R-IA), Chairman
224 Dirksen Senate Office Building
Washington, DC 20510
Michael Avenatti Email
From: Michael J Avenatti
Sent: Sunday, September 23, 2018 6:06 PM
To: Davis, Mike (Judiciary-Rep)
Subject: RE: SCOTUS — Avanatti claim of evidence
Dear Mr Davis
Thank you for your email. We are aware of significant evidence of multiple house parties on the Washington D.C. area during the early 1980s during which Brett Kavanaugh, Mark Judge and others would participate in the targeting of women with alcohol/drugs in order to allow a "train" of men to subsequently gang rape them. there are multiple witnesses that will corroborate these facts and each of them must be called to testify publicly. As a starting point, Senate investigators should pose the following questions to Judge Kavanaugh without delay and provide the answers to the American people:
1. Did you ever target one or more women for sex or rape at a house party? Did you ever assist Mark Judge or others in doing so?
2. Did you ever attend any house party during which a woman was gang raped or used for sex by multiple men?
3. Did you ever witness a line of men outside a bedroom at any house party where you understood a woman was in the bedroom being raped of taken advantage of?
4. Did you ever participate in any sexual conduct with a woman at a house party whom you understood to be intoxicated or under the influence of drugs?
5. Did you ever communicate with Mark Judge or anyone else about your participation in a "train" involving an intoxicated woman?
6. Did you ever object or attempt to prevent one or more men from participating in the rape, or taking advantage, of a woman at any house party.
Please note that we will provide additional evidence relating to the above conduct to the Committee and the American public in the coming days.
Regards,
Michael Avenatti.
Avenatti Comes Through
Today Avenatti has come through, backing up his claims with a virtually unimpeachable source. Julie Swetnick is both a victim/survivor and a witness to the events alluded to in the Avenatti email above. The Guardian begins their article with the words:
Julie Swetnick says she witnessed efforts by Kavanaugh and others 'to cause girls to become inebriated … so they could then be gang-raped'.
In a sworn affidavit, Swetnick provides details that make a mockery of Kavanaugh's Fox News appearance. As we know, there was already evidence that he was a liar. However, the gulf between his claims that he was a virgin until "well into his college years" and Swetnick's affidavit put a seal on that.
The Guardian Article
Here are some excerpts from the Guardian article, though I urge you you to read it for yourselves. There's a lot to digest, but I consider the most important part relates to Swetnick's credibility. No assessment is 100% reliable, but this part of the article points to some reasons why she's a good witness:
Swetnick said she … currently holds government security clearances to work for the US treasury, the US Mint and the Internal Revenue Service. She said she previously held clearances with the departments of state, justice, homeland security and customs and border protection.
This is a woman who is worthy of her government's trust in her career as an IT professional. At the very least, she knows how important it is to be truthful in a sworn affidavit.
Further, Swetnick told two friends of the attack at the time. Therefore, this is not something just coming to light now. According to the Guardian, this is what she says:
Shortly after the incident, I shared what had transpired with at least two other people. During this incident, I was incapacitated without my consent and unable to fight off boys raping me. I believe I was drugged using Quaaludes or something similar placed in what I was drinking.
For these reasons, this appears an entirely credible allegation. As a result, I believe we can have a high degree of confidence in it.
The New Allegations Against Kavanaugh
Here's part of what the article says:
The declaration said she had "observed Brett Kavanaugh drink excessively at these parties and engage in abusive and physically aggressive behaviour towards girls, including pressing girls against him without their consent, 'grinding' against girls and attempting to remove or shift girls' clothing to expose private body parts".

Swetnick, 55, said she was at parties where Kavanaugh and his friend Judge were involved in situations that resulted in women being gang-raped.

She wrote: "I witnessed efforts by Mark Judge, Brett Kavanaugh and others to cause girls to become inebriated and disoriented so they could then be 'gang-raped' in a side room or bedroom by a 'train' of numerous boys…"

"In approximately 1982, I became the victim of one of these 'gang' or 'train' rapes where Mark Judge and Brett Kavanaugh were present." …

She said: "I attended well over 10 house parties in the Washington DC area during the years 1981-1983 where Mark Judge and Brett Kavanaugh were present."

She went on: "I have reviewed Brett Kavanaugh's recent claim on Fox News regarding his alleged 'innocence' during his high school years and lack of sexual activity. This claim is absolutely false and a lie. I witnessed Brett Kavanaugh consistently engage in excessive drinking and inappropriate contact of a sexual nature with women during the early 1980s."
Senate Confirmation Hearing
Avenatti is indicating that Swetnick is able to testify on Thursday along with Ford. However, it appears she won't get the chance. Although he has gone as far as asking the committee to hear her, they appear to he ignoring him.
We know why. Firstly, a Supreme Court pick in the US is a political appointment. As a result, what the GOP wants is control of the Supreme Court. As well as meaning they can control the country's laws to suit themselves, they can keep their president in the White House. Besides being anti-choice, Kavanaugh has written that he believes a president is above the law. That means Trump cannot be subpoenaed, and therefore won't testify. That's crucial as Trump is unable to tell the truth, and even if he did, the truth would probably condemn him.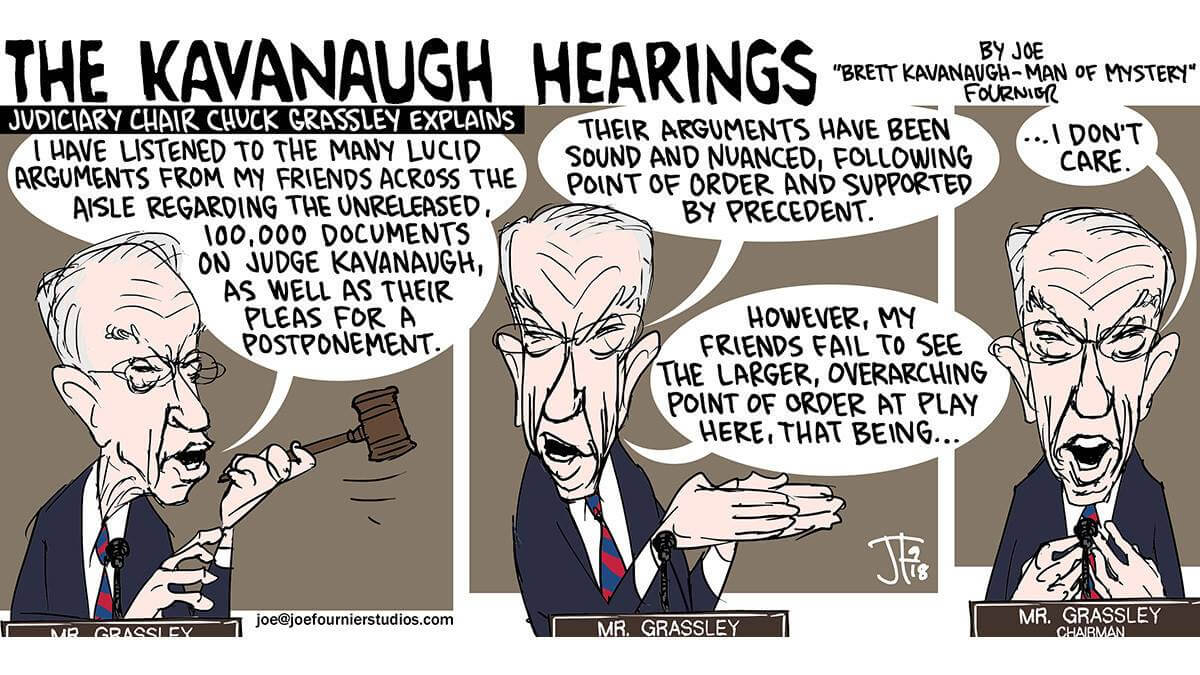 More Accusations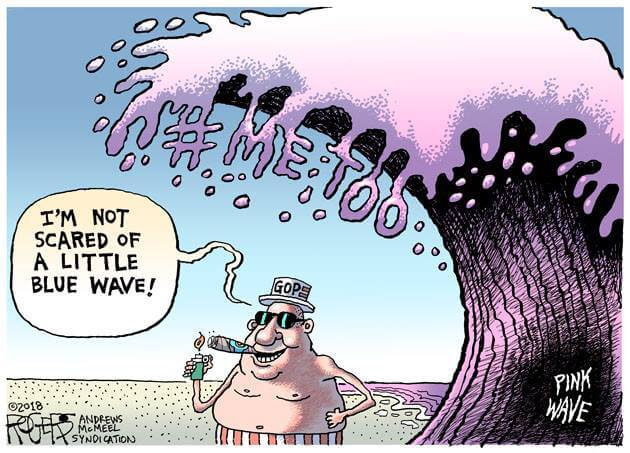 CNN is reporting two new accusations against Kavanaugh that have come out today. Although it appears that they may be credible, they are currently anonymous. While we can understand why someone would like to retain their privacy in the current environment, we cannot use anonymous accusations against someone. If that changes, we can properly assess them.
Even before these new allegations though, some organisations were wavering in their support for Kavanaugh. It's time he, Trump, and the GOP took their heads out of the sand. This nomination cannot go forward. If it does, the Supreme Court will lost all credibility. At the very least, the GOP will need to start worrying about all the women voters they will lose at the next election. However, because they have such a poor understanding of how to treat women as equals, perhaps they do not realize the Pink Wave that's coming.
(These cartoons are all new since my last post.)
---
If you enjoyed reading this, please consider donating a dollar or two to help keep the site going. Thank you.
---