Many people in this world still have extremely backward attitudes relating to women, and rape is a topic on which they expose themselves. For most of them it's a product of their upbringing. They've often never had exposure to different opinions.
But, there's no excuse for the attitudes Jordanian MP Mahmoud Al-Kharabshe (aka Mahmoud Kharabsheh). He's intelligent (a lawyer) and a senior MP. Thus, he's had the opportunity to educate himself. Therefore he should know better than to entertain the idea that rape victims marrying their rapist is a good result.
Mahmoud Al-Kharabshe was speaking on 5 April as part of a group discussion on Alhurra TV. Alhurra broadcasts in Arabic from the US by satellite to 22 Middle Eastern and North African countries. It claims the third highest ratings of all pan-Arab television channels. During the discussion it was clear that both the host and other speakers took great umbrage at Al-Kharabshe's comments; it was equally clear that he felt passionately about what he was saying.
The translation is by MEMRI.
Jordanian MP Thinks it's Good for Society if a Rape Victim Marries her Rapist
I can't make MEMRI clips smaller (which is probably due to my lack of skills), so it may be easier to watch it on their site, here.
Transcript
Al-Kharabshe:
The damage to a rape victim cannot be rectified. The psychological residue and the damage to her reputation and her honour will continue to haunt her in society. But if there is a possibility to marry her off to the perpetrator of this crime, and if the continuity of this marriage can be guaranteed by law and by society, I think it is in the best interest of both society and the victim, because Arab society is different than other societies.
Host:
(Tries to interrupt, but al-Kharahshe is in full flight.)
Al-Kharabshe:
Such a marriage cannot take place unless the woman consents to it. If she does not, the perpetrator will get the punishment he deserves. Therefore, we are different from other societies. We are Eastern societies, not European ones. The honor and reputation of the family and the woman still need to be maintained.
Host:
(Tries to interrupt again.)
Al-Kharabshe:
When I say this, I am not saying that we only protect …
Host:
Such statements are very degrading to women. (Al-Kharabshe tries to interrupt host.) Suggesting that a rape victim should be married off to her rapist is degrading. (Al-Kharabshe, shaking his head in disbelief, interrupts again.)
Al-Kharabshe:
Sir, please. The law is the product of a certain social environment. We cannot implement the law of France or America in Jordan. There are social norms and customs. A law that does not follow these social norms and customs, and does not protect the woman as well as society as a whole, is bound to become a sword hanging over our necks. We want to protect society and women, not just the women. Secondly, if the woman consents to the marriage – what's the problem? Thirdly, the law guarantees the marriage will last at least five years, and stipulates that if it fails or is annulled in less than five years, the attorney-general or the claimant can re-launch the [rape] case. Therefore, the law guarantees everybody's rights and protects the woman's honour.
Host:
(Has been trying to interrupt again throughout last two sentences.)
Al-Kharabshe:
I support punishing the perpetrator. But when there is a possibility to keep the entire issue under wraps, thus avoiding the social consequences and the damage to honor and reputation, I believe that this is in the best interests of the woman and her family, especially if both the woman and her family consent. We do not want the perpetrator to escape punishment …
(Host agrees.)
Al-Kharabshe:
… but nor do we want this crime to spread this way. We want to protect society and the woman from this exposure, because this will continue to follow the rape victim wherever she goes. I do not think anyone else will marry her.
Where to Begin?
There's so much wrong here it's hard to know where to start. Quite honestly, it's depressing to even have to try. Most of us will never have to face attitudes like this, but the thought that there are tens millions of women out there who do is really sad.
Basically, with every sentence that came out of al-Kharabshe's mouth, things got worse and worse. I don't think I have to go through his statements one at a time to explain why he's wrong. Each statement should speak for itself to any reasonable human being.
We need to go to the cause of the problem to change things. That problem is that in large parts of the world, many still see women as commodities. If we're not virgins, we're "damaged goods" and have less value, and our only value is to continue the man's genes. There's also the ongoing issue of many believing that rape can be a woman's fault.
When Did it Start?
Originally, this was a problem of culture. Normally such things change as a culture evolves. However, religion tends to hold a culture at a particular point in history and resists any change. Religion uses threats of a bad afterlife and promises of a good one to control their followers. The afterlife is forever while we're only on earth for a short time, so those threats and promises hold a lot of sway.
Some religions, or sects within religions, can find a way that allows them to move forward with culture while still remaining true to the religion. Others cannot. Islam is a religion in which a large proportion still have an attitude to women which means they're second-class citizens in many parts of the world.
Islam isn't the only religion like this of course, it's just that they dominate the discourse through sheer weight of numbers. It's not that long since the majority in other major world religion, Christianity, were using similar rules. The idea of a women marrying her rapist appears in the Bible too, and that is likely the source of the rule in conservative Islam.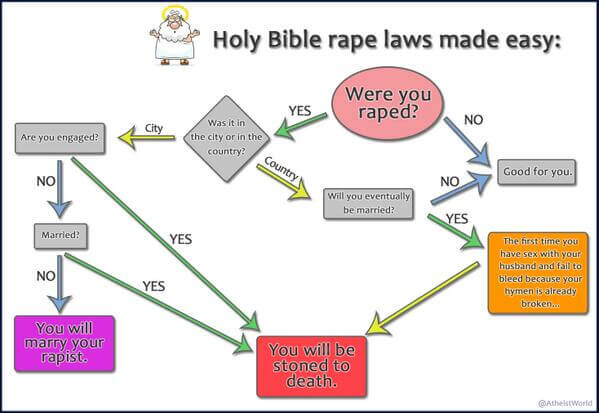 Context of Discussion on Rape
The reason this topic came up for discussion is that Jordan has a law that allows men to escape punishment for rape if they marry their victim. The law is currently up for review and there is a good chance it will go very soon. However, al-Kharabshe opposes overturning the law.
His opinion is that, amongst other things, it is against Sharia (Islamic law) to overturn the law.
The Independent reports:
A royal judiciary committee recently recommended that Article 308 of Jordan's penal code – which shields rape, statutory rape and kidnap perpetrators from prosecution if they marry their victims- be abolished by the King, who heads both Jordan's judiciary and parliament.
The Independent writes that currently in Jordan, "rape is punishable by up to seven years in prison or capital punishment if the victim is … 15 or under. " However, there is "a loophole which suspends any criminal prosecution if the two people" i.e. the rapist and the victim, marry "for a minimum of three years."
This is more than just "a loophole" though. The Independent reports that according to Jordan's Ministry of Justice, 159 rapists went on to marry their victims between 2010 and 2013! In that same time, they say, there were only about 300 rapes according to official figures annually.
The Independent goes on to report this:
In extreme cases, women in Jordan who report rape can be murdered in so-called 'honour killings'.
Equality Now
Equality Now is an international NGO that states their approach is to …:
… use the law to change the world. Equality Now is dedicated to creating a more just world where women and girls have the same rights as men and boys. Our international network of lawyers, activists, and supporters hold governments responsible for ending female genital mutilation (FGM), legal inequality, sexual trafficking and sexual violence.
A couple of their achievements are gaining voting rights for women in Kuwait, and establishing a specific anti-sex-trafficking law in Hawaii.
Their Middle East and North Africa consultant, Suad Abu-Dayyeh is leading the campaign in Jordan to overturn the marriage loophole in the Jordanian penal code. She has been working for Equality Now since 2008, where one of her first cases (still ongoing) is seeking justice for a 13-year-old Egyptian girl who died as a result of an infection following FGM.
"Noor" – A Victim of Jordan's Law and Society
In Jordan Abu-Dayyeh is currently working with a woman who's using the pseudonym Noor. "Noor" was drugged and raped by her employer (in his 50s) and became pregnant. From the Independent again:
"I couldn't tell my family what had happened. I cried and cried not knowing what to do… He tried to make me calm by saying I will marry you and he promised to go and ask for my hand. In order to make me more confident, he brought a piece of paper and we both signed on as a marriage contract," [Noor] said.

While Noor was unwilling to marry her rapist, on realising she was pregnant she felt like she had no choice.

"With all the hatred I have in my heart, my family forced me to marry him so as to save the 'family's honour,'" she said.

"I married him and I moved to live with him with all the negative memories of rape and deception. I thought that my life with my baby might make me happy, but I was very wrong; my situation deteriorated. My only hope from marrying him was to make my baby safe."
With the help of Abu-Dayyeh, "Noor" is getting a divorce and is safe from her husband. However, the attitude of society means she will probably never be able to marry and have a normal relationship.
Mahmoud Al-Kharabshe
Al-Kharabshe's opposition to overturning this law is not a surprise to the people of Jordan. He has a history of misogynistic attitudes and actions. He's been a member of the Jordanian parliament since 1999, and has consistently been in opposition to any action that increases women's rights.
Wikipedia says that in 1999 he was in opposition to amending a law relating to a man killing someone (almost always a woman) for harming family honour. He apparently thinks killing someone for that reason is a valid defence, and exoneration should be available to a man using that defence.
In 2003, two more parts of that law (Article 340) were up for review. Al-Kharabshe took the side of reducing the punishment for women whose defence for murder was defending the family honour. Note though that unlike men, he didn't think full exoneration should be available for women. They should face some level of punishment.
The other part of Article 340 that was up for review is known as the Khuloe law. It says that women should be able to divorce their husbands without giving a reason if they give up their dowry. Wikipedia says:
Kharabsheh said he would vote against the Khuloe law as he saw it to be in contradiction of … sharia law. He also said that "women would destroy the family if divorce was in their hands".
Influence of Islam
The reason there is still a law that allows men to escape punishment for rape is due to a common interpretation of Sharia. Such laws are common in majority-Muslim countries, although more and more are repealing them. According to the Independent:
In recent years, Morocco, Egypt and Ethiopia have closed similar legislative loopholes, and changes to the law are pending in both Lebanon and Bahrain.
The problem in countries that base their law on Sharia is proving that there was a rape at all. Either a man has to confess to the rape, or there have to be four adult male witnesses who will testify. Further, witness testimony takes precedence over things like DNA evidence.
This is why we get situations where a woman says she was the victim of rape, and she is the one who receives the punishment. The judge has her confession of fornication, so she receives punishment for that. If the man denies the charge, they must find four adult male witnesses to confirm the accusation. Other evidence is irrelevant. Without witnesses, the rapist goes free.
Further, there is still the common assumption that the woman is at least partly to blame, whatever the situation. Multiple examples can be found of imams who blame women for rape: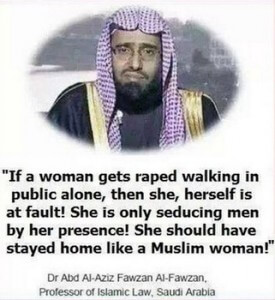 India:
Young blood bound to get excited if girls not properly dressed: Md N R Barkati, shahi imam
Australia:
Muslim leader blames women for sex attacks
Germany:
Cologne Imam: Girls Were Raped Because They Were Half Naked And Wore Perfume
And I can't pass by an opportunity to use Jesus and Mo: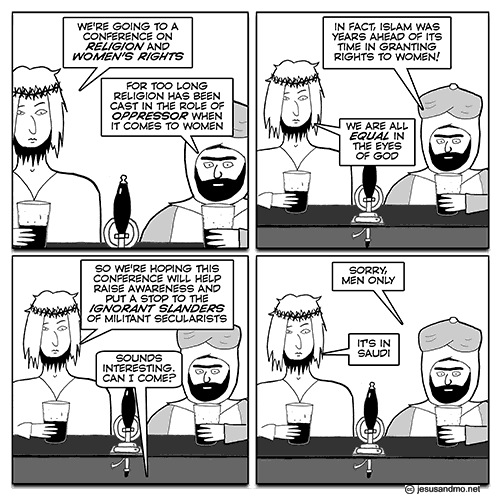 Islam and Women's Clothing
The whole idea behind women wearing the hijab is for women not to tempt men. It is their responsibility not to be alluring, not a man's responsibility to control his own actions. There are three verses in the Qur'an that tell women how to dress. This is one of them. (If you want to read all three, check out my post: 'Islam and Women's Clothing'.)
O Prophet! Tell your wives and daughters and the believing women that they should draw over themselves their jilbab (outer garments) (when in public); this will be more conducive to their being recognized (as decent women) and not harassed. But God is indeed oft-forgiving, most merciful. (33:59)
The Qur'an says that if women cover themselves, they will not face harassment. That makes it their responsibility. Personally I think this is pretty insulting to men. A man who cannot stop himself raping or otherwise attacking a women because she shows a bit of ankle must be pretty weak and pathetic.
However, the point of course is the attitude this teaches, and it's one that must change. And not just within Islam but throughout the world.
We must teach our children, both boys and girls, that physical and sexual violence is wrong, no matter the circumstances. Too many boys learn that violence is part of being a man, and some girls are learning that with equality comes the right to be violent. We must start with our children if we are to get rid of attitudes like those of Jordanian MP Mahmoud al-Kharabshe.
---
If you enjoyed this post, please consider donating a dollar or two to help keep the site going. Thank you.
---