I follow the tweets and Facebook postings of Economist Robert Reich. As a result I just found out that not all USians contribute the same proportion of their income to Social Security. There's a cap at US$120,000. So people who earn big salaries – exactly the people who can afford it most easily – pay much less as a proportion of their salaries. Can you imagine that happening in New Zealand with ACC levies for example? No wonder they're having problems!
Check out this short video from Reich: 'The Next Big Fight: Social Security, Medicare, and Medicaid'. It explains exactly what I've been saying on this site for years about this topic. Most of you have agreed in the comments too, so I think you'll enjoy the video.
However, that's not what I was going to write about today, though it does fit in with the general theme which is logic fails. We all do it all the time of course. I recently made a major logical error, and I'm currently hoping I haven't destroyed a friendship because of it. There are a couple of logic fails though that most of us have to live with every day – some more than others.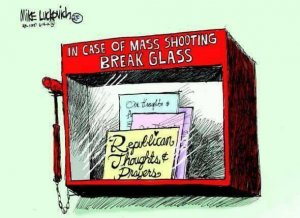 One is so common we don't even think about it most of the time. Most of us are atheists, but we live in a world where billions accept there is a God or gods. Sometimes though the belief gets really annoying. One of those times is every time there is a natural disaster, people send their "thoughts and prayers" to those suffering.
That phrase isn't used much in New Zealand thank goodness, but we hear it a lot from overseas. I just heard it last night when watching the CNN broadcast of the US State of the Union. The talking heads praised Melania Trump for the way she's always amongst the first offering "thoughts and prayers." Her caring nature is praiseworthy of course, but I for one, feel fingernails on the blackboard of my brain every time I hear it.
This acceptance of God came up in another CNN show a couple of nights ago. This time it was 'Amanpour'. Christiane Amanpour is one of the journalists I admire most. Her strong faith in God creeps into her work sometimes though, and that's what happened this time.
The occasion was a story about Larry Nassar, the doctor going to prison for abusing multiple young girls, most famously several Olympic gymnasts. We only know about his crime because of the work of Indianapolis Star investigative reporter Tim Evans and two of his colleagues. At the end of the trial Assistant District Attorney Angela Povilaitis made the comment, "Thank God for journalists." Amanpour endorsed that comment, also thanking God. She interviewed Evans, and he spoke of the important work being done by journalists all over the country despite the difficulties the industry is facing. I thoroughly endorse that. Good on the journalists who exposed Nassar's crimes. However, even if there is a God, I'm not sure he can be thanked.
Given that Nasser committed his crime in the US, and his victims were young, I think it's safe to say that a majority were believers in God. Therefore, I think it's also safe to say that most, if not all, prayed for the abuse to be over. Where was God then? The abuse began in the 1980s, and so far 265 victims have been identified. Why thank God for journalists? That's a logic fail. If this mythical God cared about the girls, the abuse would never have occurred.
The other logic fail I keep hearing is in relation to US politics. Republicans keep saying that Trump won the election and therefore what he's doing is what the US people want.
It is quite true that, in the broken US electoral system, Trump won the election. However, you cannot extrapolate that Trump's policies are therefore what the US people want. The truth is, most people voted for Hillary Clinton. Therefore, they prefer her policies and those of the Democrats. In fact, public polling from reputable firms bears this out. On virtually every policy question since Trump took power, the majority have been opposed to his positions and supportive of those of the Democrats.
It annoys me every time I hear another Republican announce that Trump is doing what most people want. And I'm quite sure they would see the logic fail if the positions were reversed and Clinton was in the White House having lost the popular vote.
Political Tweets
Un-fu€ki₦g-believable. He's turned the State of the Union speech into a fu€ki₦g Telethon! And I thought nothing else could surprise me.
(Via Ann German.)
Names of campaign donors to be flashed during live stream of Trump's State of the Union speech https://t.co/AU6tno96F9

— Washington Post (@washington post) January 30, 2018
This is the Robert Reich video I linked to in the homily. He's also putting a series of lectures he's giving at Berkley on his Facebook page, which I've put on the Heather's Homilies Facebook page. (There are two so far.)
The Next Big Fight: Social Security, Medicare, and Medicaid https://t.co/P09dRaY0xU via @YouTube

— Heather's Homilies (@HeatherHastie) February 1, 2018
Human Rights Tweets
It's important people who stand up against injustice are remembered by everyone the world over.
(Via Ann German.)
Today we celebrate civil rights hero Fred Korematsu. In honor of Korematsu's legacy, we must continue to ensure acts of injustice against Americans never happen again. #FredKorematsuDay pic.twitter.com/IXCFHNa58k

— AAJC (@AAAJ_AAJC) January 30, 2018
More on Fred Korematsu.
(Via Ann German.)
THREAD: Fred Korematsu was a leader in the fight against the internment of Japanese-Americans like himself and his family during World War II, taking his case all the way to the Supreme Court. pic.twitter.com/BHRbigWHPv

— ADL (@ADL_National) January 30, 2018
This woman is inspiring!
The most beautiful #Girlsofrevolutionstreet this mother hardly walk. she stood up for freedom & put a white headscarf on a stick 2 protest compulsory hijab
يكي از زيباترين #دختران_خیابان_انقلاب اين مادر نازنينه شال سفيدش به عصا ميبندد:
ببینم عرزشیا واسه مادرم چه حرفی در میارن! pic.twitter.com/aTPOSLLCjQ

— My Stealthy Freedom (@masihpooyan) January 31, 2018
Waving a white hijab while wearing her legal hijab so they can't arrest her! That might be a logic fail too in Iran, but good luck to her!
The government cannot arrest me with my hijab soI am waving the white headscarf of the #GirlsOfRevolutionStreet who got arrested for protesting compulsory hijab #WhereIsShe free #NargessHosseini
ما را كه با چادر بازداشت نميكنند صداي #دختران_خیابان_انقلاب باشيم pic.twitter.com/xEJfLXq45Z

— My Stealthy Freedom (@masihpooyan) January 31, 2018
Good on her!
ما منتظر تغيير قانون حجاب نمي مونيم حجاب زوري رو خودمون دور مي اندازيم.#چهارشنبه_های_بدون_اجبار
We will not wait for the hijab laws to be removed slowly.We will remove it ourselves com. Watch me walk unveiled and join me on #WhiteWednesdays #WhereIsShe #GirlsOfRevolutionStreet pic.twitter.com/A3e8fOjn6u

— My Stealthy Freedom (@masihpooyan) January 31, 2018
There are snowflakes, and then there are snowflakes! If you need a peacock to help you fly, you have no business flying! If that turns me into an Alt-Righter, I'll just have to live with it! FFS. SMH.
(Via Al Lee.)
What next! Woman denied emotional support peacock on United flight https://t.co/BJhH7VQoJh

— Heather's Homilies (@HeatherHastie) February 1, 2018
Religion Tweets
Trevor Mallard (Speaker of the House) did well here. The parliamentary prayer has long been an embarrassment. Now, all reference to Jesus has been taken out and it's only delivered in Maori, not English. When asked why he did it he simply said that most New Zealanders are no longer Christian. That's true. At the last census, Christians came in at 48%. Unaffiliated were 42%. The remainder were other religions.
But seriously, who do Christians think they are? Why should they have their deity in our parliament? Parliament is supposed to serve ALL the people.
The Speaker of the House removed reference to Jesus because most NZers aren't Christian any more. Christians aren't happy and are rallying to put 'Jesus' back into New Zealand Parliamentary prayer https://t.co/3QpP70V36x via @1NewsNZ

— Heather's Homilies (@Heather Hastie) January 31, 2018
Scenic Tweets
Lovely pic of Rome's Colosseum.
Rome, Italy pic.twitter.com/bY1oR43lz5

— Architecture (@arch pics) January 30, 2018
I Don't Know Where Else to Put Them Tweets
Marijuana is dangerous after all. Who knew?
(Via Ann German.)
Toronto Police officers eat marijuana edibles on shift.
Officers can't handle the high and call in for emergency assistance.
Responding officer slips and falls on ice.
Our story:https://t.co/0hMiprSawt

— James Wattie (@james wattie) January 29, 2018
Cool gif, but the consequences are scary.
It took 200,000 years for our human population to reach 1 billion—and only 200 years to reach 7 billion. Watch how humans reachead the current level of population https://t.co/7S2elBcYsQ pic.twitter.com/9BwZc2BnRO

— Massimo (@Rainmaker 1973) January 30, 2018
Ha ha!
Hmm.. VR slide looks fun pic.twitter.com/WxoLYUFhdu

— World and Science (@World And Science) January 31, 2018
Space Tweets
Now I have to finish this post today to make sure the news is out in time in case any of you don't know about this otherwise!
A lunar trio will be visible in the sky tomorrow before dawn:
????Supermoon – When the Moon is at/near its closest point to Earth
????Blue Moon – The 2nd full moon in a month
????Blood Moon – The red tint Earth's shadow casts on the Moon during a lunar eclipsehttps://t.co/4XHqTsdR9Q pic.twitter.com/CxH1AlcQ5x

— NASA (@NASA) January 31, 2018
Well, obviously I didn't get this finished yesterday. And I missed the Big Event because it was raining here after several weeks of clear weather. I haven't been sleeping for several nights and finally exhaustion overtook me, so I probably wouldn't have woken up anyway. (It started at 2.38 am in New Zealand.)
The Moon has started to enter Earth's shadow…see it here? At about 7:51am ET/4:51am PT, the Earth will completely block the Sun's light, casting a reddish shadow on the Moon during what's called "totality". Watch the #SuperBlueBloodMoon live online: https://t.co/r6X6SoMfLn pic.twitter.com/eq6pvzGLWR

— NASA (@NASA) January 31, 2018
Paleontology Tweets
This is very cool, and what a fabulous job to have!
Making-of Plateosaurus 'Ben':
with @RBINSmuseum #Fossils #Plateosaurus #Science #Nature (Late Triassic)@HeatherHastie @albertisaurus @susanewington @StephenParry80 @andrepellerin
–
Article: https://t.co/lCxTA8pFtd
–https://t.co/uPdPRyhrBv

— Amy Carparelli (@Amy Amy lou 1993) January 30, 2018
Marine Tweets
And again, octopuses are cool!
'Pacific Giant Octopus in Tidepool':
with @MSidKelly #ScienceUnderTheSea #Science #Nature @HeatherHastie @albertisaurus @susanewington @LauraHouston27 @StephenParry80 @andrepellerinhttps://t.co/YZJChQ2CC7

— Amy Carparelli (@Amy Amy lou 1993) January 30, 2018
Creepy Crawlies Tweets
Gorgeous colour.
????????????❤️????????????#MacroPhotography#Insects #Bugs
????????????❤️???????????? pic.twitter.com/ubk6Ag7J66

— A Bugz Wife (@A Bugz Wife) January 30, 2018
It looks like a flower!
????????????❤️????????????#Bugs #Bugs #Bugs
????????????❤️???????????? pic.twitter.com/tsT9Y0LbJV

— A Bugz Wife (@ABugzWife) January 31, 2018
Other Animals Tweets
30 January was National Croissant Day in the US. I hope this cutie got out okay!
(Via Ann German.)
A hedgehog using a croissant as a sort of pastry throne is basically all you need.#NationalCroissantDay pic.twitter.com/Bs0eTBRrmG

— Steve Kilner (@1 Stevie Kilner) January 30, 2018
Sylvanian Families celebrated with their Mrs Tiggywinkle lookalike. I think this is gorgeous!
(Via Ann German.)
"A croissant a day keeps the doctor away!" ???? #NationalCroissantDay pic.twitter.com/aIlgR7CwrV

— Sylvanian Families (@Sylvanian UK) January 30, 2018
And that tweet led me to this one. Sylvanian Families are so cute, so I'm going to be including more of them in the future.
Ralph and I love playing games! This weekend we went exploring and played 'Alphabet in the Woods' – would you like to come play along with us?https://t.co/L2zWdsBjsu pic.twitter.com/D3JWp3P4cR

— Sylvanian Families (@Sylvanian UK) January 30, 2018
Oh wow! A real life Sylvanian animal!
This ridiculously fluffy chinchilla pic.twitter.com/KlV6O7dMkr

— Life on Earth (@planetepics) January 31, 2018
Bird Tweets
This is lovely!
Just watch what this fancy little pigeon does with it's flower ❤️????️ pic.twitter.com/WnCzg7hj1c

— Nature is Amazing ???? (@AMAZlNG NATURE) January 30, 2018
Very sweet.
Bird Balancing on Tennis Ball. pic.twitter.com/iLmgyBQ7yz

— Baby Animals (@Baby Animal Pics) January 30, 2018
You're being watched!
The Night's Watch pic.twitter.com/Yrpt6vPdRI

— World and Science (@WorldAndScience) January 31, 2018
Dog Tweets
This is so sweet!
Eating alternately…???????????? pic.twitter.com/4dse3x467d

— Stefano S. Magi (@Stefano doc SM) January 30, 2018
Cat Tweets
Looks more like dog behaviour to me!
????????????????????????????????????????????
"Won't you ????PleeeeeaaasE???? steal my cuddly blanket … "

Via judge_starr_the_savannah on #instagram …

???????????????? pic.twitter.com/6mNmALmXFE

— The Cult Cat (@Elvero jaguar) January 31, 2018
So cute!
Someone's (the name's in Mongolian script) translation in another tweet reads:
"Two baby leopards looking over. Photo by Tulgazana Darikhuu, herder of Noyon soum Umnugovi prov. #Mongolia"
Ирвэсын үр төл 2 хөөрхөн ногуул Өмнөговь аймгийн ноён сумын энгийн малчины хотны орой дээрээс
жич: малчин өөрөө зураг авсан болно
Тулгазана Дарьхүү

via Нүүрномоос pic.twitter.com/QTibpl26oD

— А. НЯМСАЙН (@nyam sain 92) January 29, 2018
Awww …
????????????????????????????????????????

It's time for a #fraternal #nap

???????????????? pic.twitter.com/JEA4H7xDqb

— The Cult Cat (@Elvero jaguar) January 30, 2018
Gorgeous!
wOw !! How many likes for these two unique cats pic.twitter.com/Jag4e5NSMk

— Life on Earth (@planet epics) January 31, 2018
It's dragging its prey between its legs like a wild cat!
I'll be in my bunk… with dis fishy #catlover #catsofinstagram #Caturday #WednesdayWisdom https://t.co/sox0PrThQa pic.twitter.com/aTcgiDbxJ1

— LOLBOOK (@LOLBOOKcom) February 1, 2018
---
If you enjoyed reading this, please consider donating a dollar or two to help keep the site going. Thank you.
---