Staying with the leadership theme – this time an example of really bad and corrupt leadership – Vladimir Putin. A report was released this week into the death in London of former Russian spy Alexander Litvinenko at the age of 43.
Litvinenko, who was born in Voronezh in 1962, was a former lieutenant-colonel with the Russian FSB (Federal Security Bureau – the successor to the KGB). However, he defected to Britain in 2000 – he said he became disillusioned with the level of corruption by the FSB on behalf of the Russian state.
Once in Britain, he wrote a book called Blowing up Russia: Terror from Within, in which he accused the FSB of blowing up apartments in Moscow and two other cities in 1999 then blaming the bombings on Chechen separatists. The bombings were then used, he claimed, by Russia as an excuse for their second invasion of Chechnya.
He became a British citizen in 2006. At some point he also apparently began working for MI6 – the British Secret Service.
The BBC reports:
It is alleged Mr Litvinenko was investigating Spanish links to the Russian mafia and had planned to fly to Spain with former agent Andrei Lugovoi (also spelled Andrey Lugovoy) – the main suspect over his murder.

At a central London hotel on 1 November 2006, he took tea with Mr Lugovoi and Dmitri Kovtun, who was also a former Russian agent.

Mr Litvinenko fell ill soon afterwards and spent the night vomiting.

Three days later he was admitted to Barnet General Hospital in north London, where his condition gradually became a cause for concern.

On 11 November he was interviewed by the BBC Russian Service and said he was in "very bad shape" after a "serious poisoning".

During that same interview, Mr Litvinenko – a critic of the Putin regime – said he had been looking into the assassination of Russian journalist Anna Politkovskaya, who had received death threats before being shot at her Moscow apartment block the previous month.

On 17 November he was transferred to University College Hospital in London after his condition worsened.

He died six days later, with his wife Marina, father Walter, and son Anatoli at his bedside.
A post-mortem confirmed poisoning with the radioactive substance Polonium-210. According to the BBC, the Police followed a radioactive trail to multiple locations including the London Millennium Hotel, the Abracadabra lap-dancing club, the Emirates football stadium (where Lugovoi watched Arsenal play CSKA Moscow), two planes at Heathrow Airport, the British embassy in Moscow, and at a flat in Hamburg, Germany, linked to Mr Kovtun. They reported that more than 700 people had to be tested for radiation poisoning as a result. Apparently none were found to be "seriously ill," whatever that means.
As a result of that, and other factors, it was recommended that Lugovoi be charged with the murder of Litvenenko. According to the BBC:
At a news conference in Moscow, Mr Lugovoi repeatedly stressed his innocence and claimed Mr Litvinenko was a British spy who might have been killed by the British security services.

The office of the prosecutor general in Moscow was quick to declare that Mr Lugovoi could not and would not be extradited because the constitution prevented the extradition of Russian citizens.
As Lugovoi's situation became known in Russia following the accusation, the leader of the Liberal Democratic Party of Russia, Vladimir Zhirinovsky, announced on 15 September 2007 that Lugovoi would be number two on the party's candidate list (second only to Zhirinovsky himself) for the Duma (Russian parliament) election. So at the December 2007 election Lugovoi became an MP and thus acquired parliamentary immunity from prosecution.
According to Wikipedia, Zhirinovsky's reaction to Litvinenko's death was:
Any traitor must be eliminated using any methods. If you have joined the special services to work, then you should work, but to betray, to run away abroad, to give up the secrets you learned while working—all of this looks bad.
Also from Wikipedia, "Sergei Abeltsev, Zhirinovsky's former bodyguard and State Duma member from the LDPR, also stated:
The deserved punishment reached the traitor. I am sure his terrible death will be a warning to all the traitors that in Russia the treason is not to be forgiven. I would recommend to citizen Berezovsky to avoid any food at the commemoration for his crime accomplice Litvinenko."
The British Home Secretary, Theresa May made a statement to parliament following the release of the official enquiry by Sir Robert Owen, a retired High Court Judge. It included the following (my emphasis):
The Inquiry has also found that Lugovoy and Kovtun were acting on behalf of others when they poisoned Mr Litvinenko. There is a strong probability that they were acting under the direction of the Russian domestic security service – the Federal Security Service or FSB. And the Inquiry has found that the FSB operation to kill Mr Litvinenko was probably approved by Mr Patrushev, the then head of the FSB, and by President Putin.

The Government takes these findings extremely seriously – as I am sure does every member of this House. We are carefully considering the report's findings in detail, and their implications. In particular, the conclusion that the Russian state was probably involved in the murder of Mr Litvinenko is deeply disturbing. It goes without saying that this was a blatant and unacceptable breach of the most fundamental tenets of international law and of civilised behaviour. But we have to accept this does not come as a surprise. The Inquiry confirms the assessment of successive governments that this was a state sponsored act. This assessment has informed the Government's approach to date.

…At the time the independent Crown Prosecution Service formally requested the extradition of Mr Lugovoy from Russia. Russia refused to comply with this request – and has consistently refused to do so ever since. It is now almost ten years since Mr Litvinenko was killed. Sir Robert Owen is unequivocal in his finding that Andrey Lugovoy and Dmitri Kovtun killed him. In light of this most serious finding, Russia's continued failure to ensure that the perpetrators of this terrible crime can be brought to justice is unacceptable. I have written to the Director of Public Prosecutions this morning asking her to consider whether any further action should be taken, both in terms of extradition and freezing criminal assets. These decisions are, of course, a matter for the independent Crown Prosecution Service. But the Government remains committed to pursuing justice in this case.
It is worth reading her full statement in the link above – diplomatic language doesn't get much tougher than this.
Patrick Worrall of Channel 4 News has compiled a list of Kremlin critics who have died in mysterious circumstances since 1994. There are 22 names on the list, the vast majority of whom died during Putin's tenure.
Last week, reader Diana McPherson and I got into a debate with a third party about Putin on another website. This person, who is Russian but doesn't live there, appears to hero worship Putin. She denied all of the evidence Diana and I put to her regarding Putin's behaviour, and accused me of lying about him, even to the extent of creating false screenshots, in Russian, which I can't even recognize from any other Cyrillic language.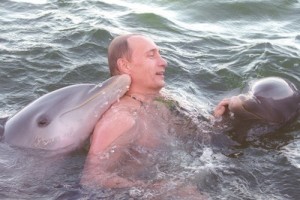 Her parting shot was the photo on the right, accompanied by the comment:
Here is a picture of Putin for your pleasure … Dolphins are excellent judges of human character.
Well I suppose that settles it. No need for courts, evidence, or investigations. We just need this modern version of the medieval Trial by Ordeal.
This shows that if you largely control the country's media, as Putin does, you control not only public opinion, but what you consider acceptable behaviour. Russian citizens Zhirinovsky and Abeltsev in their responses that Litvinenko's death is perfectly acceptable in the protection of the state is chilling. As atheists, we often express our concern at the affect religion can have on what is deemed morally acceptable. In this case it is extreme nationalism and the atmosphere of "us against the world" that Putin has engendered in Russia.