You're probably all wondering where I am given it's been so long since I put anything on the website. So, I thought I'd do a quick tweets post to get you up-to-date.
Everything is the same as usual with me. The problem was I didn't have a laptop. On Thursday morning while rushing to answer a Skype call from a friend, I sent my laptop flying across the table and onto the floor. Then, while I was trying to get my laptop back into position again, and while Skyping on the phone at the same time, the laptop went skidding across the table and off the other side.
Anyway, the computer is okay, but the screen is toast. And I also broke the internal microphone. I took it in to get a replacement screen straight away. But living in the middle of nowhere means new screens aren't readily available. The new screen was ordered immediately, but the courier couldn't get it here until Monday. However, when I went to pick it up, the repair guy had just made the discovery that they'd sent the wrong screen. Another screen was duly ordered, but once again didn't arrive the next day as it should have.
Now, I do have a desktop computer, and a tablet, and a smartphone. But when you've got a body in the condition mine is, it's not easy to get physically comfortable. An electric armchair, a table with wheels sitting across the chair, and a laptop, are what I need to write for more than a short time.
As a result, I was AWOL during the biggest week of the Trump presidency so far. There is consolation though – it looks like it's about to get even more dramatic!
There's so much to comment on, I'm not sure where to start. Every time I think I'll leave a particular situation for a longer post, the events quickly become yesterday's news. There's more to write about in the Trump presidency so far than in the whole eight years of Obama's administration. Of course, the main reason for that is so much of what Trump does is controversial.
Trump's supporters say that the only reason so much of what he does is contentious is that most of the media is liberal so they're automatically going to criticize anything Trump does. When an interviewer manages to pin down a Trump supporter and get them to admit he was wrong and it's not just an unsympathetic media, they always fall back on one consistent line. That is, "The American people elected Trump. They knew he wasn't perfect, but he's what they want."
This is simply not true. I've said as much more than once in comments, but I don't think I've said it in a post, so here goes.
The American people did NOT elect Donald Trump.
It was the Electoral College that gave the presidency to Donald Trump. I admit they didn't have a lot of choice about it. But the truth is, most USians gave their votes to Hillary Clinton. She was the one who was able to convince USians, by a majority of three million, that she should be president.
So DON'T tell me that Americans chose Trump, and that he's doing what they want. They didn't. Americans chose Hillary Clinton. The vagaries of the US electoral system along with Russian interference and the James Comey press briefings, gave the US their embarrassment of leader.
In Memoriam Tweets: Barbara Bush
Barbara Bush died today at the age of 92. Here's what a few people are saying.
Barbara Bush was a remarkable woman. She had grit & grace, brains & beauty. She was fierce & feisty in support of her family & friends, her country & her causes and she showed us what an honest, vibrant, full life looks like. Hillary and I mourn her passing and bless her memory.

— Bill Clinton (@BillClinton) April 17, 2018
Our statement on the passing of Former First Lady Barbara Bush: pic.twitter.com/MhTVYCL9Nj

— Barack Obama (@BarackObama) April 18, 2018
In 1988, I wrote about HIV+ babies abandoned at birth and held them at Montefiore in the Bronx.

In 1989, #Barbara_Bush changed the conversation around HIV/AIDS by holding HIV+ babies at a DC hospice.

First ladies can break ground.#Barbara_Bush did. pic.twitter.com/FqeiVRsK40

— Victoria Brownworth (@VABVOX) April 18, 2018
'She was repelled by him': CNN's Anderson Cooper praises Barbara Bush as the 'antithesis' of Donald Trump https://t.co/KFOZdEzICh

— Raw Story (@RawStory) April 18, 2018
As we mourn her passing, let's give Barbara Bush kudos for speaking out against Trump's malignant misogyny during the 2016 campaign. pic.twitter.com/HxzKKFDEnB

— Stone Cold (@stonecold2050) April 18, 2018
Barbara Bush and five other First Ladies, offstage at a US Botanic Garden event, 1994: #Kinney pic.twitter.com/k9CFEV8fps

— Michael Beschloss (@BeschlossDC) April 18, 2018
Former Vice President @JoeBiden released a statement on the passing of former First Lady Barbara Bush. https://t.co/uQRcKyKQRC pic.twitter.com/q8qsPx68vF

— Fox News (@FoxNews) April 18, 2018
"Somewhere out in this audience may even be someone who will one day follow in my footsteps and preside over the White House as the president's spouse. And I wish him well"

First Lady Barbara Bush offered advice in a commencement speech to the class of 1990 at Wellesley College pic.twitter.com/gPiPXWbiNx

— NBC News (@NBCNews) April 18, 2018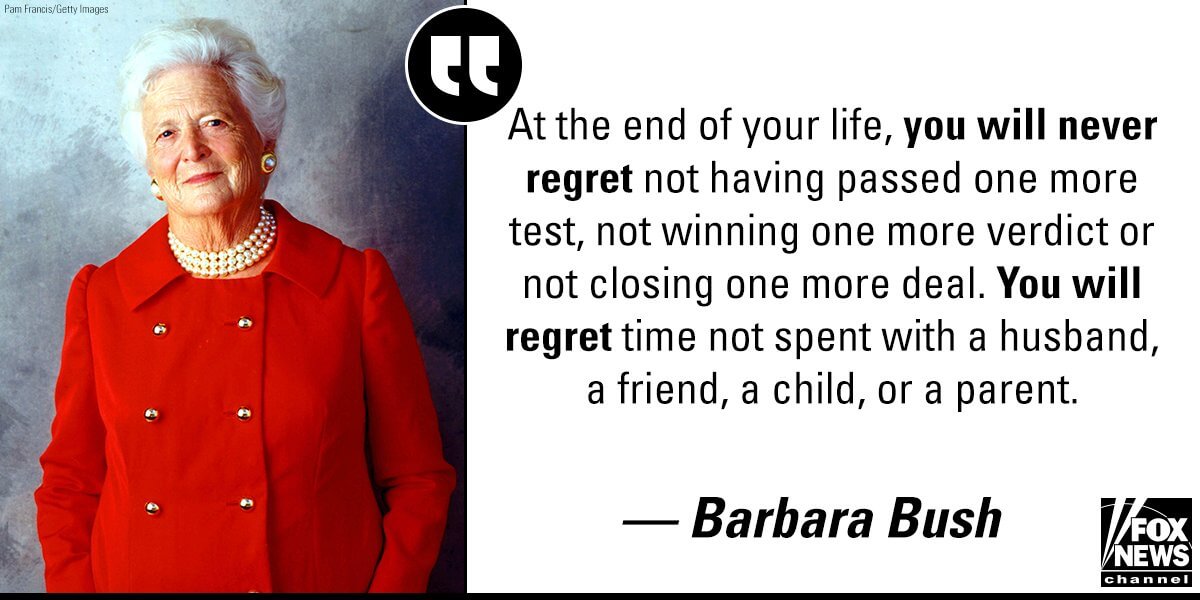 Political Tweets
I don't know if Ikea did this deliberately or if it's a translation thing, but I love it either way!
(Via Ann German.)
IKEA has such a delightful sense of humour sometimes. pic.twitter.com/fSeaJBMSu3

— CivicLillyinWick (@CivicLilly1) April 16, 2018
This is a something about Trump that annoys me a lot. I think the country should pay to keep the president safe, no matter what I think of the president. However, there are issues with Trump because there's been no proper divestment of business interests. Trump makes the Secret Service pay for the golf carts they use to follow him around his own resorts, for example. There's not even a discount rate. I personally think that's OTT. It means Trump is profiting from the presidency. I'm sure there are other areas where this is happening given the amount of time Trump spends at resorts he owns.
(Via Ann German.)
Trump is at Mar-a-Lago this week to meet with the Japanese prime minister. Here is how your tax money is going to Trump's business: pic.twitter.com/JDDHiPOHoM

— Citizens for Ethics (@CREWcrew) April 17, 2018
Wow! Looking promising so far. Let's hope they can get this right. (They're due to get something right after all the appalling fuck-ups domestically!)
Breaking —> CIA Director Mike Pompeo made a top-secret trip to North Korea over Easter and met with Kim Jong Un. A Wash Post exclusive https://t.co/JqkjRnvz8E

— Philip Rucker (@PhilipRucker) April 17, 2018
Mueller Time Tweets
This isn't strictly Mueller-time as it's part of a state prosecution (despite what Trump's acolytes think), but it's easier to put this here than make up a new section.
Sean Hannity is Outed as Michael Cohen's Client & James Comey Drags Trump on 20/20 | The Daily Show https://t.co/R5AWAjnqDW

— Heather's Homilies (@HeatherHastie) April 17, 2018
I suppose it's possible?
(Via Ann German.)
???????????????????????????????????????????????????????????????????????????????????????????????? pic.twitter.com/tPFbz4vkZs

— Pitchinafit (@Pitchinafit1) April 17, 2018
As (almost) always, Trevor Noah's take is brilliant!
Sean Hannity Had "Exclusively Almost" Nothing to Do with Michael Cohen |… https://t.co/3x4undFy2F via @YouTube

— Heather's Homilies (@HeatherHastie) April 18, 2018
Very well said!!!
(Via Ann German.)
I'm sure Sean Hannity can expect the same privacy and respect that he afforded Seth Rich's family.

— Bobbie Oliver (@thebobbieoliver) April 16, 2018
Funny Tweets
Very good!
(Via Ann German.)
— Mx Golem (@TheGolem1) April 15, 2018
Ha ha!
(Via Ann German.)
I like this too ???????? pic.twitter.com/yDR2VhOFIb

— Kate ???? (@britchic2016) April 11, 2018
Fake New Tweets
In case you're not aware, Obama is NOT saying those things. The video is real; the sound is not.
(Via Ann German.)
These videos terrify me https://t.co/mQCBsRPknH pic.twitter.com/C5g6hjLuhW

— Robert Maguire (@RobertMaguire_) April 17, 2018
Gun Safety Tweets
Isn't this what we all thought would happen? (I know this is old news now, but I wanted to make sure I got it in somewhere!)
(Via Ann German.)
A teacher at Marjory Stoneman Douglas High who said he'd be willing to arm himself at school to protect students has been accused of leaving his loaded handgun in a public restroom, where it was picked up and fired by a drunk homeless man. https://t.co/MHHopF1IZq

— Kyle Griffin (@kylegriffin1) April 12, 2018
A response to the above tweet …
The only way to stop a bad guy with a gun is to leave it in a public restroom where a drunk man can pick it up and hopefully shoot the bad guy in an accidental discharge. https://t.co/CgZVQowM3d

— skullsinthestars (@drskyskull) April 12, 2018
Human Rights Tweets
They're getting braver – there are more and more tweets of women going hijab-free.
منتظر کسی نمی مانیم که برایمان آزادی بیاورد. آزادی را به چنگ می آوریم. #چهارشنبه_های_سفید #پياده_روی_بدون_حجاب
We won't wait for anyone to bring us freedom. We will create our own freedom.
#WhiteWednesdays #WalkingUnveiled pic.twitter.com/0MnRREeLpP

— My Stealthy Freedom (@masihpooyan) April 17, 2018
Getting rid of the baddies is one thing. And it's right to ensure employers are following the law. But if this employer can't get employees except by employing illegal immigrants, and these kids are US citizens, I think they've got their priorities wrong. Why aren't ICE agents going to downtown Los Angeles and rounding up those gangs Trump likes to wax lyrical about? Are these easy targets to get the numbers up?
ICE raided a Tennessee factory and arrested 97 people — more than 500 kids missed school the next day pic.twitter.com/SBC6nOFqW5

— NowThis (@nowthisnews) April 16, 2018
As it says in the second tweet, men don't realize that employers, just like everyone else, don't like to tell people they're not good enough. Saying, "we needed a woman," is a useful way to get out of telling someone they weren't good enough.
(Via Ann German.)
Being a white man really does seem tough. So glad someone wrote this article. https://t.co/3Tbt02xq7Y pic.twitter.com/9CGxb5XQ6D

— Amanda Terkel (@aterkel) April 17, 2018
Ha! He doesn't get that bosses lie to white guys rather than saying "she was better for this job than you." Bosses want guys angry with a coworker, not with them. Millions of guys with grudges against women, POC, because bosses lie.

— Sandearl persists (@sandearl) April 17, 2018
Science Tweets
Here's a new series I'll be featuring with the help of science communicator Amy Carparelli. I really like the third item in the video. We found out in NZ's news yesterday just how many cases of food poisoning there are here each year, mostly in relation to chicken.
Andy's Week in Science: Keeping food safe, memory implants and chocolate
with @andyjstapleton #Science #Comedy #A_Week_in_Science@albertisaurus @HeatherHastie @susanewington @1972magpie @StephenParry80 @com_netcarper
–https://t.co/MF1QqU9ue7

— Amy Carparelli (@AmyAmylou1993) April 17, 2018
You can always rely on science to keep doing the stuff that matters!
(Via Ann German.)
While you weren't looking, an Ebola vaccine has emerged that appears to actually work. https://t.co/efrV5wEsa2

— Atul Gawande (@Atul_Gawande) April 16, 2018
Once again, science saves the day.
'Really stunning' – Plastic eating enzyme discovered by UK scientists https://t.co/QqSUWr9pC3 via @1NewsNZ

— Heather's Homilies (@HeatherHastie) April 18, 2018
Also received this tweet on the topic from Ann German.
'The mutant enzyme takes a few days to start breaking down the plastic – far faster than the centuries it takes in the oceans'
????
v @MaroonedOnEarth @DaemonAAc https://t.co/gSqvesYkHm

— g.i.l.l.y (@gillyarcht) April 17, 2018
I didn't know that!
How is a mouse like a giraffe?
with @NHM_London #NHM_Shorts #Science #Nature @HeatherHastie @albertisaurus @susanewington @StephenParry80 @com_netcarper @1972magpie @andrepellerin
–
Article: https://t.co/Ye5z3jfnpw
–https://t.co/jWnOAzbe6U

— Amy Carparelli (@AmyAmylou1993) April 16, 2018
This is basic science. To me it's a lot of fun, and a great way for people like me who are pretty ignorant when it comes to things like physics and chemistry to learn. However, some of you may find it too far below you.
Fire & Flames (sc6): Hydrogen
with Dr Peter Wothers #Saturday_Night_Science #Science
WARNING:
Don't try this at home…
…
Or anywhere else!
–https://t.co/4cVuUtS9cQ

— Amy Carparelli (@AmyAmylou1993) April 14, 2018
Scenic Tweets
Wow! Just Wow!
This is the abbey library of Saint Gall in Switzerland, UNESCO world heritage since 1983. The library was founded (at latest) in the year 719. This library hall was built 1758-1767. ???? Philipp Heer @lerichti https://t.co/scmneKDL0q pic.twitter.com/qLcOgrh5qy

— Architecture (@archpics) April 18, 2018
Creepy-Crawlies Tweets
Beautiful.
Stunning photo of a beetle-backed fly (Celyphidae) by Kong Chee Seng. Yes, you read that right, this is a fly! In this group of flies the scutellum at the rear of the insect's thorax evolved into a hard shell, just like a beetle's wing covers.https://t.co/ZGgFDMbaOg

— Gil Wizen (@wizentrop) April 16, 2018
Other Animals Tweets
Elephant calves are always a winner …
A baby elephant starts to be wayward when his mamma tries to end mud bath time…???????????? pic.twitter.com/nrk8PztEzQ

— Stefano S. Magi (@StefanodocSM) April 17, 2018
Otter's are one of my favourites – it's their wee hands that do it.
Look at this absolute stunner. pic.twitter.com/BpsVwQwNAZ

— In Otter News (@Otter_News) April 16, 2018
Look at the size of that hedgehog!
Hedgehog Street: Room for a 'not so little' one
with @PTES and @hedgehogsociety#Nature #RatedAwww #Hedgehog_Street
–
Website: https://t.co/hvIKeHPjvS
–https://t.co/jqAKSd6R5U

— Amy Carparelli (@AmyAmylou1993) April 17, 2018
Just off for a stroll. Look at those cute little legs!
Hedgehog off for a stroll:
with @SurreyWT #Nature #RatedAwww
–https://t.co/NcoqUly4iH

— Amy Carparelli (@AmyAmylou1993) April 12, 2018
Bird Tweets
How lucky can you get!!!
Owls were born on my colleague's windowsill a few weeks ago and I. Just. Can't. Even. pic.twitter.com/W6ZjP5TCZ6

— Michael Lens (@mc_lens) April 11, 2018
Dog Tweets
My favourite dog breed, and what a cutie!
everything blows your mind when you're a pupper pic.twitter.com/iBFNi7Up1a

— Cutest Animals Ever ???? (@CUTEST_ANlMALS) April 18, 2018
Cat Tweets
Who would've thunk it – a llama and a kitten!
Good morning Twitter-Friends…Happy new week pic.twitter.com/hWjhVmJJlG

— Marie Nassar (@marienassar_) April 16, 2018
Awwww……
look at this lil baby ????

????: mr.finngrey pic.twitter.com/j1hWbbiJ7I

— Emergency Kittens (@EmrgencyKittens) April 17, 2018
And another one!
Tiny jelly bean paws pic.twitter.com/zfMif2CB59

— VIDEO CATS ???? (@videocats) April 16, 2018
Love this!
The disguise concealed its subject so utterly, so convincingly, that even the world's top scientists had no way of deciphering what lay beneath. pic.twitter.com/rZ0gfZiyJL

— Dick King-Smith HQ (@DickKingSmith) April 16, 2018
Ha ha! You can't pay attention to a goat and expect the cat to play second fiddle! What were they thinking!
Cat wants feeding too…???????????? pic.twitter.com/JysIERWmox

— Stefano S. Magi (@StefanodocSM) April 16, 2018
Gorgeous animals!
(Via Ann German.)
First-ever confirmed #snowleopard cub sighting in the Shamshy Nature Reserve, an ex-hunting concession converted and protected with DSWF seed funding! Read more –> https://t.co/rqbFKQ3PBN #FightProtectEngage #ProtectSnowLeopards pic.twitter.com/i0wagcB5rQ

— David Shepherd Wildlife Foundation (@DSWFWildlife) April 10, 2018
---
If you enjoyed reading this, please consider donating a dollar or two to help keep the site going. Thank you.
---