I've got a hedgehog named after me! This is one of the coolest things ever to happen to me in my life, and a great honour! The hedgehog is a rescue one at the SWCC Hedgehog Hospital in Hertfordshire, England.
I suspect intervention by science communicator Amy Carparelli. A £25 donation allows you to sponsor a hedgehog that the hospital is caring for.
(Update 19 July: It turns out that my re-tweets of SWCC's work have a lot to do with Heather getting her name. However, I found out about them via Amy, so really, it still is down to her.)
Regular readers will recognize Amy's name. Amy is currently developing her own website (ratedawww.com) and there will be lots of science and nature stuff, especially relating to Britain and Europe, to see there. I'm planning a post for when she has the site ready.
Anyway, here's the announcement!
Beautiful Heather named after @HeatherHastie, one of our #hedgehogheroes in NZ! Another #hedgehogmodel from @SWCCHedgehogs ????????@AmyAmylou1993 pic.twitter.com/q4Z5ni44Iz

— SWCC Hedgehogs (@SWCCHedgehogs) July 17, 2017
This was the first tweet I saw about Heather the Hedgehog. I didn't know at the time that she got her name from me, but it got a re-tweet anyway. I'm lucky enough to have more than the average number of Twitter followers, so I was hoping that would mean a lot of people got to read about the plight of some hedgehogs.
This is Heather. A beautiful girl attacked by a dog in garden. No serious injuries but we don't know whether she had a litter of #hoglets ???? pic.twitter.com/QMozNcyJ4c

— SWCC Hedgehogs (@SWCCHedgehogs) July 16, 2017
SWCC Hedgehogs is the Shepreth Wildlife Conservation Charity Hedgehog Hospital. That's a great site to follow if you're anything like me and love pics of hedgehogs. Just look at this one from yesterday.
We had 8 admissions today due to dog attacks. These 6 #hoglets were brought in after their nest was destroyed. Two have nasty wounds. ???????????? pic.twitter.com/R3cTha5WKs

— SWCC Hedgehogs (@SWCCHedgehogs) July 16, 2017
It's so sad that hedgehogs are suffering because owners don't keep control of their dogs! I wish they would think of the suffering that could be occurring because of their lack of responsibility.
The Shepreth Wildlife Conservation Charity (SWCC)
The Shepreth Wildlife Conservation Charity began in 2011. It raises funds for at-risk wildlife both in Britain and abroad, and also for their on-site Hedgehog Hospital. Many of the animals they focus on overseas are those that are at risk of extinction because of traditional medicine. They describe their aims at their website as to:
• improve animal welfare and the conservation of British fauna and flora.
• improve animal welfare and conservation of fauna and flora of endangered species around the world.
• educate the general public about British fauna and flora, endangered species around the world and the local environment.
• provide grants to individuals and organisations to allow them to further the aims shown above.
They do excellent work in Britain and around the world. As well as helping directly, they also support other wildlife charities including 21st Century Tiger, Wildlife Vets International, the European Association of Zoos and Aquaria, the International Union for the Conservation of Nature, and the Ape Conservation Fund.
There are multiple ways to support the charity, some as simple as EasyFundraising, which is a particularly painless way to support a charity. See here for the ways to help SWCC.
Hedgehogs on Simon's Cat
I've been saving some pics of Simon's Cat and his hedgehog friends for a while, and I think this is the perfect occasion to use one. Simon's Cat is great mates with his local hedgehogs, according to the artwork of his creator of course!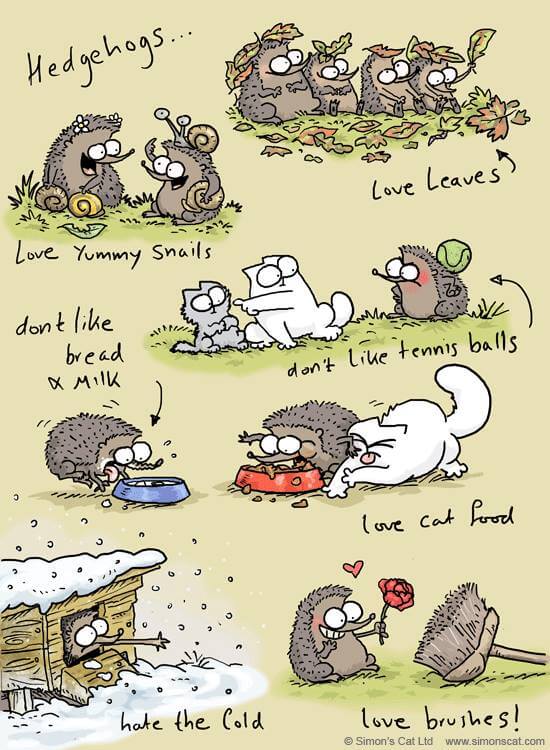 ---
If you enjoyed reading this, please consider donating a dollar or two to help keep the site going. Thank you.
---