This tweets post should be about the All Blacks winning against Scotland. But I forgot to watch the game. Looking at the score line, I suspect that, as expected, the Scots put up a fantastic fight.
The ongoing saga of Roy Moore being an a$$hole is, as someone who is a #MeToo, taking a lot of my attention. Donald Trump, is busy tweeting against every Democrat who has a history of bad sexual behaviour but he's ignoring the Moore situation. As so often, given the multiple allegations against Trump himself, the stench of hypocrisy is strong.
What about the women? That's what I have to say to all those whose tweets are all about whether the Democrats or Republicans are the worst here.
When it comes to the policies of the two parties, the GOP's policies are the worst when it comes to women. However, that, in general, has little to do with the general behaviour of men. There will always be men on both sides of the aisle, as well as men who aren't political at all, who don't treat others with respect.
We can't change what happened in the past, though we can seek justice for those who want it. We can do our best to change the culture moving forward though. People learn and grow throughout their lives, and the current focus of sexual harassment and abuse can be an opportunity to change.
When I was a child, a man beating his female partner wasn't assault, it was, "Just a domestic." (No man could ever even admit to being the victim of domestic violence without being labelled some sort of weakling. The idea of a man raping his wife was laughed at by most. Smacking children was routine.
When I was a teenager and in my twenties, a majority of the people around me were not accepting of same-sex relationships. Today, most of them are. A lot of those people are, of course, the same people. They have come to recognize that when some people fall in love, it's with a person of the same sex, and the way they feel is just the same as those of us who fall in love with someone of the opposite sex.
When I was in the workforce thirty years ago, off-colour jokes were the norm. Women were expected to put up with all sorts of sexual comments and innuendo in the normal course of things. And we did. Most of those same men stopped talking like that as the years went by. That sort of behaviour became unacceptable, as it should always have been.
Our culture constantly evolves and changes, and that's mostly a good thing. What's happening now gives us the opportunity to make it okay to talk about being a survivor of some sort of bad sexual behaviour. The more that happens, and the more people understand what so many people, mostly women but some men too, have had to deal with, the easier it will be to stop it happening in the future.
We all need to all do our best to ensure our children learn to treat others with respect in all situations. The way to do that is to model that behaviour ourselves.
But when children see our leaders not only behaving badly, but getting away with it, it sends a bad message.
Our President has been accused of:

– Raping his Wife
– Walking in on Naked Teens at Miss Univ. Dressing room
– Admitting to grabbing women by the Pussy
– Raping a 12-year-old child
– Raping, groping or sexually assaulting 17 other women

Yet no one cares…#SexualPredatorTrump

— Brian Krassenstein???? (@krassenstein) November 17, 2017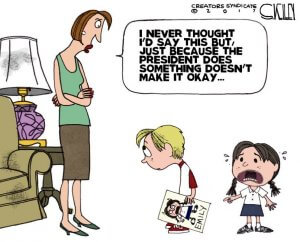 Political Tweets
Excellent!
— Ann German (@wankerjustice) November 18, 2017
It'll be interesting to see how this one plays out.
Cards Against Humanity? More like Cards Saving Humanity pic.twitter.com/Raq6dpRpoS

— NowThis (@nowthisnews) November 19, 2017
SO much for MAGA!
Make Germany Great Again! Oy.https://t.co/KO7shiUbQA

— Mrs. Betty Bowers (@BettyBowers) November 18, 2017
FFS Judge Jennine! If there's an uprising, it will be because of people like you getting the deplorables all worked up! The kind of people who were in that video on WEIT today!
Deranged Fox News Host Warns Of An 'Uprising' If Any Trump Family Members Are Indicted https://t.co/Y2GYVptR47 #Mueller et al are getting very close. The panic and threats are coming fast and furiously. Obviously they are trying to gin up their base and work them into a frenzy. pic.twitter.com/4tIUvN3hrB

— ????????Aunt Crabby ???????? (@DearAuntCrabby) November 18, 2017
This is important!
Saudi Arabia's recent actions have everyone wondering: Is war imminent? pic.twitter.com/zLQOIhYTZM

— AJ+ (@ajplus) November 19, 2017
Human Rights Tweets
Was Moore's wife a victim too?
(Via Ann German.)
Lots of info on Kayla Moore coming from Alabama:
She told friends her and Roy were "highschool sweetheart" and met in highschool. Problem is when Kayla was 15 her husband was 30.

— Pesach 'Pace' Lattin ⭐ ???????? (@pacelattin) November 14, 2017
All allegations of sexual harassment, abuse, and violence must be investigated, including these ones.
(Via Ann German.)
A reminder that at least 15 women have accused Donald Trump on the record of unwanted physical contact. Listen for the patterns in their stories. #inners pic.twitter.com/thoTR3OyXv

— All In w/Chris Hayes (@allinwithchris) November 18, 2017
Well said!
'Daily Show' co-creator Lizz Winstead explains #MeAt14 and why we have to listen to and believe women pic.twitter.com/9UDZVHyXTo

— NowThis (@nowthisnews) November 17, 2017
I'm glad to see this being re-visited. This is someone else who should be expected to resign given the weight of the allegations against him.
Let's Talk About Clarence Thomas – my latest at @thedailybeast https://t.co/KpXvEPsPWL

— Joy Reid (@JoyAnnReid) November 18, 2017
History Tweets
All the pomp and ceremony of a presidential inauguration, except those cost more and are every four years.
Queen Elizabeth II coronation photo, 1953 by Cecil Beaton. pic.twitter.com/AgCeikSDSr

— History Lovers Club (@historylvrsclub) November 19, 2017
I like it!
Abandoned pic.twitter.com/R3gc2Lbh3h

— Victorian Houses (@HousesVictorian) November 18, 2017
This is amazing!
A school bus in northern Maine, 1930. pic.twitter.com/DnnYGzQu6j

— Mood:Vintage (@moodvintage) November 19, 2017
Scenic Tweets
Another place I'd love to see in real life!
St. Giles' Church, Edinburgh pic.twitter.com/x3HgfkNtoX

— Architecture (@archpics) November 18, 2017
Funny Tweets
I'll never turn my face up to the rain again without thinking of this!
Credits: @Downsign pic.twitter.com/4HrpBlpEz7

— Science (@scienmag) November 19, 2017
Entertainment Tweets
A whole year to wait for this! But it will be fabulous!
Here's a first look at Jude Law as a young Dumbledore pic.twitter.com/ow0SF3uR7V

— NowThis (@nowthisnews) November 18, 2017
Donald Trump does not want these pics used, so you need to know which ones not to use.
Do NOT use these photos of Donald Trump.
Apparently Trump HATES them. Trump doesn't want social media to SHARE them.
Respect his wishes. Please do not RETWEET. pic.twitter.com/lEmGkuiKv5

— Politics Punked (@PoliticsPunked) November 17, 2017
I've gone off Hitchcock since someone here told me what he did to that woman with the lion. (I know what I'm talking about even if you don't!) So I didn't re-tweet this one. But it's a cool pic nevertheless.
Director Alfred Hitchcock, during the filming of The Birds, USA, 1962 by Philippe Halsman. pic.twitter.com/JvQtRi6K8U

— History Lovers Club (@historylvrsclub) November 19, 2017
I like this picture.
— Mood:Odd (@moododd) November 18, 2017
Art Tweets
Cool pic!
— Mood:Odd (@moododd) November 18, 2017
Ha ha!
— Mood:Odd (@moododd) November 18, 2017
Very cool!
This is incredible pic.twitter.com/dpQg6aRRox

— Paint Mixing & Art (@ArtMixing) November 19, 2017
As always in the US, all the faces are young and attractive. Let's see some faces with character! Otherwise, cool.
You can now get a 14-foot three-dimensional "selfie" pic.twitter.com/cpyg3DUeYG

— The Verge (@verge) November 19, 2017
Very cool indeed!
I love these character studies of Neanderthals by the artist Tom Björklund. So rarely are they pictured as if they were real people.

See his blog and Facebook for more.https://t.co/TjJzKjTJV9https://t.co/xs1ToCYlzu pic.twitter.com/EAnbWpgHiD

— Matthew Dalby, PhD (@MatthewJDalby) November 19, 2017
Science Tweets
Science is cool!
Stitches from a cornea transplant.

[photo: Philawesomeraptor] pic.twitter.com/0nhMltlVAq

— IM????HIM (@ziyatong) November 18, 2017
Science is cool. And the robot takeover is coming. Sarah Connor managed to slow them down, but she has more work to do!
This artificial muscle can lift 1,000 times its own weight pic.twitter.com/4UCKKaJlNP

— The Verge (@verge) November 19, 2017
Marine Tweets
Very cool!
Water pumping and filtering ability of sea sponges with luminous dye pic.twitter.com/LJalVwJEKN

— World and Science (@WorldAndScience) November 19, 2017
Name the octopus at the London Aquarium.
Ever wanted the chance to name a creature at SEA LIFE? Well now's your chance! We have an Octopus with an INKredible personality and no name! Cast your vote here…. https://t.co/GeKJ3oOOZN pic.twitter.com/vpvUh0eYmc

— SEA LIFE London (@london_aquarium) November 18, 2017
Other Animals Tweets
You may recognize the first clip in 'Cute News' as the baby crocodiles I posted a few days ago!
Cute News 52:#Nature #RatedAwww
–https://t.co/TOOscUe2NH

— Amy Carparelli (@AmyAmylou1993) November 16, 2017
Ann German sent me a link to an article about Roi, an elephant calf whose mother was poisoned by ivory poachers. That led me to this video about her rescue.
Roi's Emotive Rescue https://t.co/HfMFqQdXGX via @YouTube

— Heather's Homilies (@HeatherHastie) November 18, 2017
Cool creature!
The saiga almost looks like an imaginary animal, but it's very real.
It's also critically endangered.

[photo: Tim Flach] pic.twitter.com/AsbXWgVpUf

— IM????HIM (@ziyatong) November 18, 2017
I don't have enough pigs on here.
Piggy smile… pic.twitter.com/wnAZ7hP6RL

— Life on Earth (@planetepics) November 18, 2017
Someone has to tell me what these are because I'm not entirely sure.
????????????????????????????????????????????

???????????????? pic.twitter.com/5PD7vLFXod

— The Cult Cat (@Elverojaguar) November 19, 2017
Bird Tweets
What a lovely wee thing!
Oriental Dwarf Kingfisher. So many colors on such a tiny bird pic.twitter.com/UiUXBgMFCe

— Life on Earth (@planetepics) November 18, 2017
Dog Tweets
There are some breeds of dog I love, and this is one of them.
(Via Ann German.)
Guy dressed up as his dog's favorite toy for Halloween…priceless. pic.twitter.com/EAq6sujUFn

— Nature is Amazing ☘️ (@AMAZlNGNATURE) October 31, 2017
This made me laugh!
"Boinggggg" pic.twitter.com/3vA5fCsWUb

— Fluff Society (@FluffSociety) November 19, 2017
I think this is a dog?
Best friends pic.twitter.com/zCqpqZogVj

— Life on Earth (@planetepics) November 19, 2017
Nice kitty!
This Is Probably The Most Patient Cat You'll Ever See https://t.co/FzDjJVLpzc

— Life on Earth (@planetepics) November 19, 2017
The cat's on top!
Happy family pic.twitter.com/FtOOXKYXuq

— Life on Earth (@planetepics) November 19, 2017
Cat Tweets
I think this is the same kitten I posted a couple of days ago. What a sweetie!
From @dorisandsofia: "Hide and seek or hide and play" #catsofinstagram pic.twitter.com/Dy2Br4k9U4

— Sweet Cats ???? (@sweetcatsss) November 17, 2017
This moggie doesn't look too happy, but it's not moving so it must like it!
— Sweet Cats ???? (@sweetcatsss) November 17, 2017
Lovely.
Can we all take a moment to appreciate this pic.twitter.com/GXY1eZK8xP

— Sweet Cats ???? (@sweetcatsss) November 17, 2017
Note for Jerry: You're supposed to put them in the 'Hili Dialogue' after I post them here, not before! 😀
Well this is a first.
I can honestly say, I've never seen a cat trying to pet a bird. pic.twitter.com/BduMhPhoDI

— IM????HIM (@ziyatong) November 18, 2017
Just looking at it makes you feel better!
???????? pic.twitter.com/mtZmW4JxWx

— Awwwww (@AwwwwCats) November 18, 2017
I've posted this one before, but it's a cool pic.
I love it when my cats lend a helping hand! pic.twitter.com/1RAWxgHIcf

— Cats and Kittens (@catsnkittys) November 18, 2017
Wow!
What a striking #cat pic.twitter.com/noFj6G5qM9

— Cats and Kittens (@catsnkittys) November 19, 2017
---
If you enjoyed reading this, please consider donating a dollar or two to help keep the site going. Thank you.
---